Sweet and Low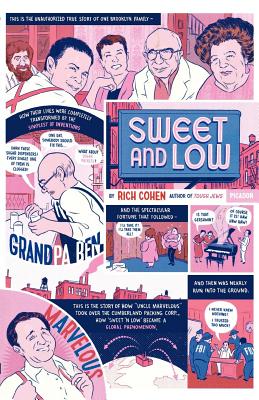 Sweet and Low
A Family Story
Picador USA, Paperback, 9780312426019, 272pp.
Publication Date: March 20, 2007
* Individual store prices may vary.
Buy at Local Store
Enter your zip code below to purchase from an indie close to you.
or
Buy Here
Description
"Sweet and Low" is the bittersweet, hilarious story of Ben Eisenstadt, who invented sugar packets and Sweet'N Low, and amassed the great fortune that would later destroy his family. It is a story of immigrants, Jewish gangsters, and Brooklyn; of sugar, saccharine, obesity, and diet crazes; of jealousy, betrayal, and ambition. Disinherited along with his mother and siblings, Rich Cohen has written a rancorous, colorful history of his extraordinary family and their pursuit of the American dream.
About the Author
Rich Cohen is the author of Tough Jews, The Avengers, and Machers and Rockers, and the memoir Lake Effect. His work has appeared in The New Yorker and Vanity Fair, among many other publications, and he is a contributing editor to Rolling Stone. He lives in New York City.
Praise For Sweet and Low…
"A small classic of familial triumph, travail and strife, and a telling--and often hilarious--parable about the pursuit and costs of the American dream . . . recounted with uncommon acuity and wit."--Michiko Kakutani, The New York Times

"How decadent to indulge in Rich Cohen's rollicking account of his family and the business it built. . . . Cohen has a terrific eye for detail, the little things that affix people and places in our memories, the gestures and miscues that shape family history. . . . It's a guilty pleasure--sort of like sugar without calories."--The New York Times Book Review

"A wildly addictive, high-octane narrative. Cohen sashays with boisterous panache from the history of the sugar trade to grandmother Betty's brooch. . . . He moves from journalistic objectivity to the intensely personal with ease, enjoying the kind of access that historians almost never get."--The Washington Post

"It is Cohen's good fortune to be on the side of the family that was disinherited. Sweet revenge is the energy behind this glorious book."--Time

"Cohen tells a fascinating story about family bonds in his quest to discover why his mother was cast out. His skewering of his relatives is merciless. . . . Plenty of writers have dissected their less-than-perfect families.Dealing with the issue with this much heart, though--that's extraordinary."--People

"Hilarious."--Newsweek

"This book is an absolute pleasure: expansive, fascinating, funny and full of historical tidbits to read aloud to anyone around."--Salon.com

"Never less than fascinating . . . Sweet and Low might as well be a Balzacian nineteenth-century novel complete with a crisis, a contested will, and a tragic resolution."--Los Angeles Times

"Unfailingly entertaining . . . Echoes the cadences of such literary antecedents as Saul Bellow."--The Wall Street Journal "Cohen writes entertainingly, lining up characters like objects in a curio cabinet. . . . He is an unusually nimble writer, capable of casually broaching grander themes. By balancing his more ambitious material with Eisenstadt family lore, and moving the drama away from the money he'll never see, he makes the story of Sweet'N Low something more than just a pleasant taste that lingers in the mouth."--The New York Observer

"Cohen is one talented storyteller, and Sweet and Low is a great read. . . . Cohen also offers good servings of history on related topics--the sugar trade, the diet craze, the migration of Jews to New York--much of which provides a helpful backdrop to the story. At the heart of this tale is his family, a cast of characters who, owing to Cohen's gifts as a writer, are neither lionized nor demonized."--Library Journal