Night Draws Near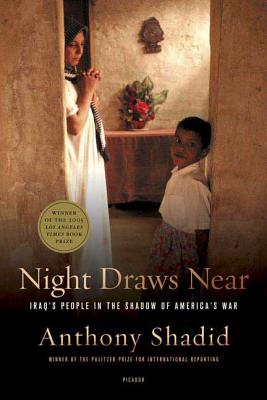 Night Draws Near
Iraq's People in the Shadow of America's War
Picador USA, Paperback, 9780312426033, 507pp.
Publication Date: July 11, 2006
* Individual store prices may vary.
Buy Now
or
Shop Local
Enter your zip code below to purchase from an indie close to you.
Description
Winner of the 2005 "Los Angeles Times" Book Prize
A "Washington Post Book World "Top Five Nonfiction Book of the Year
A "Seattle Times" Top Ten Best Book of the Year
A "New York Times" Notable Book of the Year
In 2003, "The Washington Post"'s Anthony Shadid went to war in Iraq, but not as an embedded journalist. Born and raised in Oklahoma, of Lebanese descent, Shadid, a fluent Arabic speaker, has spent the last three years dividing his time between Washington, D.C., and Baghdad. The only journalist to win a Pulitzer Prize for his extraordinary coverage of Iraq, Shadid is also the only writer to describe the human story of ordinary Iraqis weathering the unexpected impact of America's invasion and occupation. Through the moving stories of individual Iraqis, Shadid shows how Saddam's downfall paved the way not just for hopes of democracy but also for the importation of jihad and the rise of a bloody insurgency. "A superb reporter's book," wrote Seymour Hersh; "Night Draws Near" is, according to Mark Danner, "essential.
About the Author
ANTHONY SHADID (1968-2012), author of "Night Draws Near, " was an unparalleled chronicler of the human stories behind the news. He gained attention and awards, including the Pulitzer Prize, for his front-page reports in the "Washington Post" from Iraq. More recently, as Middle East correspondent for the "New York Times, "he covered the Arab Spring from Egypt to Libya (where he was held captive in March, 2011) to Syria. In 2010, he earned his second Pulitzer. Tragically, on February 16, 2012, he died while on assignment in Syria.
Praise For Night Draws Near…
"Incisive and eloquent . . . A harrowing portrait of life in postwar Iraq and the fallout that the American war has had on ordinary Iraqi civilians . . . A riveting narrative . . . Provides a damning account of the Bush administration's failure to prepare adequately for the postwar occupation . . . Sobering and revealing."--Michiko Kakutani, The New York Times
 
"Shadid breaks new ground in offering us a much-needed look at the human face of the Iraqi people, as well as an acute analysis of the variegated cultural and historical forces that ultimately are going to decide the political fate of Iraq. . . . Through Shadid's eyes, we see clearly the chasm between occupier and occupied. . . . As a piece of reporting on the forces that are shaping today's Iraq, this is as fine a book as one could hope to read."--James Webb, The Washington Post Book World
 
"Night Draws Near is unique in its breadth, its supremely elegant writing, and in the biography of its author. . . . [Shadid] understands Iraqi culture better than most U.S. journalists. . . . Everyone should read this book, especially the White House and members of Congress. It will open their eyes."--Aaron Glantz, San Francisco Chronicle
 
"Told exclusively from the perspective of regular Iraqis, these are the war stories we never hear. . . . [A] definitive work."--Naomi Klein, The Guardian (U.K.)
 
"This book should be read for its keen analysis of the events in postinvasion Iraq as much as for its thoughtful and precise storytelling and portraiture of Iraqis trying to make sense of their radically changed country. . . . [A] tour de force."--Anthony Swofford, Columbia Journalism Review "It is Shadid's rare achievement to have recorded and restored the voices of those most directly affect by the war in Iraq: the Iraqis themselves. . . . He converses equally easily with the Texas private and the Islamic insurgent, crossing the divide between Sunni, Shiite, and American, to extract the individual stories that give human contour to the chaos. . . . Gripping, gritty, and heartbreaking."--Ben Macintyre, The New York Times Book Review
 
"An important event, a ray of light . . . Informed, scrupulously observed, elegantly written and deeply compassionate, Night Draws Near is a classic not just of war reporting but of what we might call frontline anthropology." --Gary Kamiya, Salon.com
 
"First-rate reporting . . . An intimate and essential book which reveals why America failed to win over hearts and minds, in spite of toppling Saddam . . . Night Draws Near reveals that this war might have gone a different way--especially, it would seem, if we had listened to the people of Iraq as Shadid did from the beginning."--John Freeman, The Courier-Journal
 
"Mr. Shadid . . . who speaks Arabic like a native and writes English like an angel, has put his best reporting into this book."--The Economist
 
"Shadid won a Pulitzer for his work in Iraq, and his account of the invasion and its uncertain aftermath is both stark and profoundly humane. . . . Shadid's concern isn't Pentagon policy but the interior life of the occupation, where the goals of the American mission remain, for the Iraqis he meets, tragically abstract."--The New Yorker
 
"A colorful and moving account."--Bruce Ramsey, The Seattle Times
 
"Masterful . . . [Night Draws Near] may be the most important writing to come out of the war so far. . . . The book is full of historical background and subtle observations that help explain the mindset of the Iraqis. . . . [Shadid has] written a complex, sympathetic, and dark portrait of a people we still understand all too poorly. It's a book that every soldier, war planner, and policy-maker should read."--Garrett M. Graff, The Washingtonian
 
"Shadid's stories are always affecting, sometimes uplifting, much more frequently heart-rending. . . . [An] unflinching depiction of wartime life."--Chris Toensing, The Nation
 
"In Night Draws Near, Shadid moves deftly between revealing, exemplary, close-up personal stories and a wide-angled historical analysis that is remarkably engaging and accessible."--Tom Montgomery-Fate, The Boston Globe
 
"Night Draws Near is perhaps the most nuanced, informative, and moving recent book about the Iraq conflict. . . . Essential reading for Americans."--Brian Palmer, Newsday 
Wednesday, Sep 1, 2010
For more than seven years, Americans learned about the war from news reports. But between headlines, many also turned to books to understand the strategy and the lessons of the conflict. As "Operation New Dawn" begins, Thomas Ricks picks the best and the worst books about the Iraq war. More at NPR.org