Pardonable Lies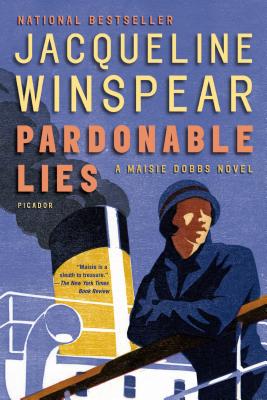 Pardonable Lies
A Maisie Dobbs Novel
Picador USA, Paperback, 9780312426217, 359pp.
Publication Date: June 27, 2006
* Individual store prices may vary.
Buy Now
or
Shop Local
Enter your zip code below to purchase from an indie close to you.
Description
A new Maisie Dobbs novel from award-winning author Jacqueline Winspear
In the third novel of this unique and masterly crime series, a deathbed plea from his wife leads Sir Cecil Lawton, KC, to seek the aid of Maisie Dobbs, psychologist and investigator. As Maisie soon learns, Agnes Lawton never accepted that her aviator son was killed in the Great War, a torment that led her not only to the edge of madness but also to the doors of those who practice the dark arts and commune with the spirit world. Determined to prove Ralph Lawton either dead or alive, Maisie is plunged into a case that tests her spiritual strength, as well as her regard for her mentor, Maurice Blanche. The mission will bring her to France and reunite her with her old friend Priscilla Evernden, who lost three brothers in the war, one of whom has an intriguing connection to the case.
Set against a finely drawn portrait of life between the World Wars, "Pardonable Lies" is "a thrilling mystery that will enthrall fans of Jacqueline Winspear's heroine and likely win her new ones" ("Detroit Free Press").
About the Author
Jacqueline Winspear is the author of the New York Times bestsellers Leaving Everything Most Loved, Elegy for Eddie, A Lesson in Secrets, The Mapping of Love and Death, Among the Mad, and An Incomplete Revenge, as well as four other national bestselling Maisie Dobbs novels. Her standalone novel, The Care and Management of Lies, was also a New York Times bestseller. She has won numerous awards for her work, including the Agatha, Alex, and Macavity awards for the first book in the series, Maisie Dobbs, which was also nominated for the Edgar Award for Best Novel and was a New York Times Notable Book. Originally from the United Kingdom, she now lives in California.
Praise For Pardonable Lies…
"In Maisie Dobbs, Jacqueline Winspear has given us a real gift. Maisie Dobbs has not been created--she has been discovered. Such people are always there amongst us, waiting for somebody like Ms. Winspear to come along and reveal them. And what a revelation it is!"--Alexander McCall Smith, author of The No. 1 Ladies' Detective Agency series "Maisie is a sleuth to treasure."--The New York Times Book Review "Maisie's most assured outing to date . . . The mood and atmosphere of the period ring with authenticity, and the class tension that underlies many of Maisie's dealings lends the narrative extra sparkle."--San Francisco Chronicle
 
"For readers yearning for the calm and insightful intelligence of a main character like P. D. James's Cordelia Gray, Maisie Dobbs is spot-on."--The Boston Globe
 
"A prim 1930s British gumshoe is one of the freshest, most modern heroines in recent memory. Maisie Dobbs takes her place in the upper echelon of literary female detectives, right next to Kinsey Millhone and Kay Scarpetta. . . . Pardonable Lies is as stylish as a whodunit gets."--BookPage
 
"I couldn't put the book down and rushed out right away to get the other two. Maisie Dobbs is a joy."--The Globe and Mail (Toronto) "Will thoroughly delight existing fans and should garner her new ones . . . Winspear carefully crafts each sentence, building toward a thrilling and emotional conclusion."--Library Journal
 
"If you haven't read the Maisie Dobbs stories, you are missing a treat."--The Ledger Independent (Kentucky)
 
"Fans of Miss Marple and Precious Ramotswe are sure to embrace Maisie, a pitch-perfect blend of compassion and panache."--Booklist
 
"To give an idea of how much I liked Pardonable Lies, I immediately went to my local bookstore and ordered the first two in the series. Long live Maisie Dobbs!"--Mystery News
 
"Maisie is immediately captivating. . . . Dobbs ponders the mysteries of life as well as the mysteries she is hired to solve. . . . Surprisingly eloquent, evening moving."--Saint Paul Pioneer Press
 
"Jacqueline Winspear's historical mysteries prove exactly what this subgenre can achieve, offering a prism of the past and a mirror of the future. . . . Fascinating."--Sun-Sentinel
 
"A fine examination of a young woman making her way amid the economic and social dislocations of 1930s Britain . . . Pardonable Lies is a reflection, a meditation even, on how those of us who have experienced war carry with us the scars that can reopen in an instant."--The Sunday Patriot-News
 
"Winspear again treats us to a story broad in scope and rich in detail and suspense. . . . An excellent series."--The Orange County Register
 
"Filled with convincing characters, this is a complex tale of healing, of truth and half-truth, of long-held secrets, some, perhaps, to be held forever. Winspear writes seamlessly, enriching the whole with vivid details of English life on a variety of social levels."--Publishers Weekly (starred review)
 
"Winspear twists the suspense to a high pitch in this dark and moody tale that will please newcomers to the series as well as Winspear's many fans."--Rocky Mountain News