The Diving Pool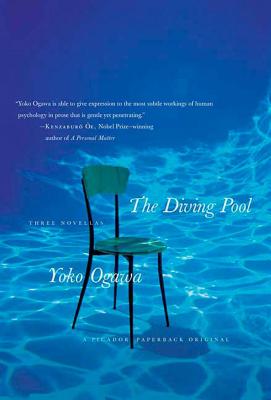 The Diving Pool
Three Novellas
Picador USA, Paperback, 9780312426835, 164pp.
Publication Date: January 22, 2008
* Individual store prices may vary.
Buy at Local Store
Enter your zip code below to purchase from an indie close to you.
or
Buy Here
Description
The first major English translation of one of contemporary Japan's bestselling and most celebrated authors

From Akutagawa Award-winning author Yoko Ogawa comes a haunting trio of novellas about love, fertility, obsession, and how even the most innocent gestures may contain a hairline crack of cruel intent.
A lonely teenage girl falls in love with her foster brother as she watches him leap from a high diving board into a pool--a peculiar infatuation that sends unexpected ripples through her life.
A young woman records the daily moods of her pregnant sister in a diary, taking meticulous note of a pregnancy that may or may not be a hallucination--but whose hallucination is it, hers or her sister's?
A woman nostalgically visits her old college dormitory on the outskirts of Tokyo, a boarding house run by a mysterious triple amputee with one leg.
Hauntingly spare, beautiful, and twisted, "The Diving Pool "is a disquieting and at times darkly humorous collection of novellas about normal people who suddenly discover their own dark possibilities.
About the Author
Yoko Ogawa is the author of "The Diving Pool, " "The Housekeeper and the Professor", and "Hotel Iris". Her fiction has appeared in "The New Yorker, A Public Space", and "Zoetrope". Since 1988 she has published more than twenty works of fiction and nonfiction, and has won every major Japanese literary award. Her novel "The Housekeeper and the Professor" has been adapted into a film, The Professor s Beloved Equation. She lives in Ashiya, Japan, with her husband and son.

Stephen Snyder, communications director for USA Solar Stores, left New York City in 1995 to start an organic herb farm in Vermont with his wife, Melissa. He holds a degree in Radio, Television and Motion Picture communications from the University of North Carolina at Chapel Hill and has broad experience in communications, public affairs, and media relations. He also works as a freelance writer and has published The Brewmaster's Bible (HarperCollins), The Beer Companion (Simon & Schuster) and The Brewmaster's Recipe Manual.

Praise For The Diving Pool…
"Yoko Ogawa is able to give expression to the most subtle workings of human psychology in prose that is gentle yet penetrating."--Kenzaburo Oe, Nobel Prize-winning author of A Personal Matter
"Three beautifully-drawn and genuinely eerie stories. Each one builds an image that you can't quite shake out of your mind."--Aimee Bender, author of The Girl in the Flammable Skirt
"What a strange and compelling little volume this is. Yoko Ogawa's fiction is like a subtle, psychoactive drug. Long after you read it, The Diving Pool will remain with you, shifting your vision, eroding your composure, raising questions about even the most seemingly conventional people you encounter. Her gift is to both reveal and preserve the mystery of human nature."--Kathryn Harrison, bestselling author of The Kiss
"Ogawa is original, elegant, very disturbing. I admire any writer who dares to work on this uneasy territory--we're on the edge of the unspeakable. The stories seem to penetrate right to the heart of the world and find it a cold and eerie place. There are no narrative tricks, but the stories generate a surprising amount of tension. You feel as if you've touched an icy hand."--Hilary Mantel, author of Beyond Black