The Interpretation of Murder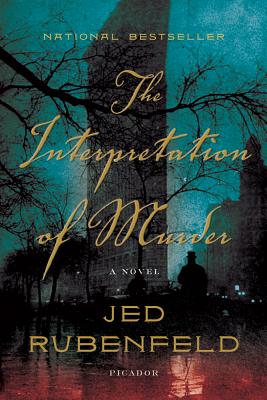 The Interpretation of Murder
Picador USA, Paperback, 9780312427054, 452pp.
Publication Date: May 15, 2007
* Individual store prices may vary.
Buy at Local Store
Enter your zip code below to purchase from an indie close to you.
or
Buy Here
Description
International Bestseller
#1 U.K. Bestseller
"The Wall Street Journal" Bestseller
"Los Angeles Times "Bestseller
In the summer of 1909, Sigmund Freud arrived by steamship in New York Harbor for a short visit to America. Though he would live another thirty years, he would never return to this country. Little is known about the week he spent in Manhattan, and Freud's biographers have long speculated as to why, in his later years, he referred to Americans as "savages" and "criminals."
In "The Interpretation of Murder, " Jed Rubenfeld weaves the facts of Freud's visit into a riveting, atmospheric story of corruption and murder set all over turn-of-the-century New York. Drawing on case histories, Shakespeare's "Hamlet, " and the historical details of a city on the brink of modernity, "The Interpretation of Murder "introduces a brilliant new storyteller, a novelist who, in the words of "The New York Times, " "will be no ordinary pop-cultural sensation.
About the Author
Currently a professor of law at Yale University, Jed Rubenfeld is one of this country's foremost experts on constitutional law. He wrote his Princeton undergraduate thesis on Sigmund Freud and studied Shakespeare at Julliard. He lives in Connecticut.
Praise For The Interpretation of Murder…
"This baroque tale of egos and ids run rampant will be a welcome treat to fans of Caleb Carr's The Alienist. . . . Find a couch and prepare for a page-turning session."--Daily News (New York)
 
"A compelling, expertly crafted murder mystery . . . Carefully researched detail is just one reason The Interpretation of Murder is shaping up to be this year's Historian."--Entertainment Weekly (Must Reads selection)
 
"Using a dizzying number of points of view and keeping the action taut, Rubenfeld leavens the intellectual heft with sly wit."--People
 
"Proves once again that crime and literature need not be separate beasts."--Rocky Mountain News (grade: A)
 
"[A] brilliant conceit . . . Rubenfeld takes the reader on a beguiling tour of the opium dens of Chinatown, the haunts of the rich at Gramercy Park, and even the subterranean construction site of the Manhattan Bridge under the East River. . . . Dazzling."--The Independent (U.K.) "Well researched . . . Jed Rubenfeld's entertaining psychological thriller is full of enjoyable twists and turns."--BookPage
 
"Rubenfeld has both smarts and an admirably depraved imagination."--Entertainment Weekly
 
"Rubenfeld's rendering of early-twentieth-century Manhattan is engrossing."--The Village Voice
 
"Rubenfeld knows how to keep readers turning pages. He steeps the story in history without waterlogging it, moving things along with well-crafted action scenes."--The Atlanta Journal-Constitution
 
"A finely written and researched historical novel."--Pittsburgh Post-Gazette
 
"Rubenfeld kicks things into high gear right from the start. . . . The depth of research Rubenfeld engaged in is evident on nearly every page. And in great historical mystery novels, a lesson in civics and criminology is always the by-product, just as it is here. . . . A compelling mystery."--Pages
 
"Rubenfeld's provocative mystery debut . . . [he] renders rich, complex characters, vivid period detail, and prose riddled with heady references to Hamlet. He deftly blends fiction and fact, and his brisk, sinuous plot makes room for playful interpretations of the world according to Freud."--Booklist (starred review)
 
"A gloriously intelligent exploration of what might have happened to Sigmund Freud during his only visit to America. . . . Filled with period detail, this historical thriller challenges the reader to reason out the mystery. Rubenfeld shows great talent for psychological suspense. . . . Fans of Caleb Carr will adore this work."--Library Journal (starred review)
 
"Ambitious . . . Readers will learn much about Freud's relationship with his then-disciple Carl Jung, the building of the Manhattan Bridge, the early opponents of Freud's theories, and the central problem posed by Hamlet's 'to be or not to be' soliloquy. . . . This well-researched and thought-provoking novel is sure to be a crowd pleaser."--Publishers Weekly
 
"Meaty and provocative."--Kirkus Reviews
 
"The Interpretation of Murder is a bold page-turner that propels us from the start with a driving plot and intriguing characters, but also with ideas--a whole history of ideas. It's a richly motivated thriller that will make you reconsider the mysteries of Freud and Hamlet. Here is a novel that you'll only want to put down in order to think more about the book."--Matthew Pearl, author of The Dante Club