An Incomplete Revenge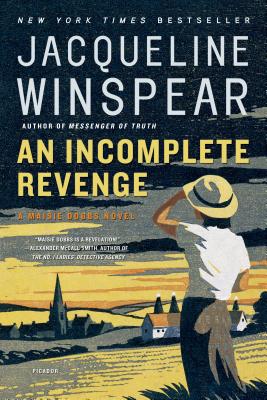 An Incomplete Revenge
Picador USA, Paperback, 9780312428181, 323pp.
Publication Date: November 25, 2008
* Individual store prices may vary.
Buy Now
or
Shop Local
Enter your zip code below to purchase from an indie close to you.
Description
A "NEW YORK TIMES" BESTSELLER
With the country in the grip of economic malaise, Maisie Dobbs is relieved to accept an apparently straightforward assignment to investigate a potential land purchase. Her inquiries take her to a picturesque village in Kent during the hop-picking season, but beneath its pastoral surface she finds evidence that something is amiss. Mysterious fires erupt in the village with alarming regularity, and a series of petty crimes suggest a darker criminal element at work. A peculiar secrecy shrouds the village, and ultimately Maisie must draw on her finely-honed skills of detection to solve one of her most intriguing cases yet.
About the Author
Jacqueline Winspear is the author of the New York Times bestsellers Leaving Everything Most Loved, Elegy for Eddie, A Lesson in Secrets, The Mapping of Love and Death, Among the Mad, and An Incomplete Revenge, as well as four other national bestselling Maisie Dobbs novels. Her standalone novel, The Care and Management of Lies, was also a New York Times bestseller. She has won numerous awards for her work, including the Agatha, Alex, and Macavity awards for the first book in the series, Maisie Dobbs, which was also nominated for the Edgar Award for Best Novel and was a New York Times Notable Book. Originally from the United Kingdom, she now lives in California.
Praise For An Incomplete Revenge…

"Maisie Dobbs is a revelation."--Alexander McCall Smith, Author of The No. 1 Ladies Detective Agency
"Those unfamiliar with the Maisie Dobbs series are best advised to start here and work their way backward. . . . An Incomplete Revenge shows Maisie at the top of her detecting form."--Newsday

"A smart, pragmatic private investigator and psychologist with extraordinary empathic sensitivity . . . Every page of this novel is dense with affectionately rendered period detail. Winspear deftly intertwines multiple story lines. The tale becomes increasingly gripping as the novel progresses toward a truly moving ending."--The Boston Globe
"Winspear's lively and graceful prose, strong sense of time and place, and her ability to create believable and sympathetic characters make the book a joy to read."--The Denver Post
"A pleasure . . . This nuanced series explores England in the aftermath of World War I, when millions of women who lost their husbands, lovers, and sons were left to make their own ways. Maisie is one of that group, and her way is an appealing one."--The Times-Picayune (New Orleans)

"A compelling and intriguing puzzle . . . inspear infuses this moving novel with wisdom, restrained emotion and, as is her custom, issues of morality."--Richmond Times-Dispatch
"Intriguing . . . Fascinating . . . Skillfully drawn."--The Washington Times
"One of the more robust entries in the historical mystery category."--The Seattle Times
"Often eloquent and deeply human."--The Providence Journal