Lush Life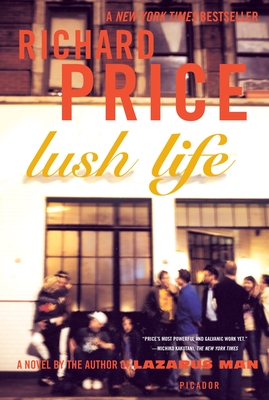 Lush Life
Picador USA, Paperback, 9780312428228, 455pp.
Publication Date: March 3, 2009
* Individual store prices may vary.
Buy at Local Store
Enter your zip code below to purchase from an indie close to you.
or
Buy Here
Description
A National Bestseller
A New York Times Notable Book of the Year
Lush Life is a tale of two Lower East Sides: one a high-priced bohemia, the other a home to hardship, it's residents pushed to the edges of their time-honored turf. When a cocky young hipster is shot to death by a street kid from the "other" lower east side, the crime ripples through every stratum of the city in this brilliant and kaleidiscopic portrait of the "new" New York.
About the Author
Richard Price is the author of seven novels, including Clockers and Freedomland. He has received an Academy Award in literature from the American Academy of Arts and Letters and shared a 2007 Edgar(R) Award as a cowriter of HBO's miniseries The Wire.
Praise For Lush Life…
"Mr. Price's most powerful and galvanic work yet, a novel that showcases his sympathy and his street cred and all his skills as a novelist and screenwriter . . . A visceral, heart-thumping portrait of New York City and some of its residents, complete with soundtrack, immortalized in this dazzling prosemovie of a novel."--Michiko Kakutani, The New York Times "A big, powerful novel . . . Its real protagonist is the complicated, tragic, and endlessly fascinating American city street. . . . Outstanding."--Jennifer Reese, Entertainment Weekly (Grade: A) "His prose has never felt more fluid, his plotting is spry. . . . Price's ability to capture and reproduce the rhythm, tone, and evanescent vocabulary of urban life cannot be over-praised: with all due respect to Elmore Leonard, Price is our best, one of the best writers of dialogue in the history of American literature."--Michael Chabon, The New York Review of Books "Richard Price knows how crime sounds and smells, and he knows that it's all tied up in race and class, two big subjects all too rare in American fiction. . . . Every sentence is a pleasure."--John H. Richardson, Esquire "Price interrogates the players--cops, perps, victims, witnesses--until each one gives up a great human truth hidden in his seedy little soul."--Time "Lush Life is lean, moving fast, and taking in large truths with a glance. . . . It's The Bonfire of the Vanities 2.0. Though Tom Wolfe's 1987 book remains one of the essential American novels, Lush Life is, in one way, the greater achievement."--Kyle Smith, The Wall Street Journal "An astonishing new novel . . . Price has a black belt in dialogue, with a Ph.D. in capturing the deadpan humor that helps cops stay sane. Lush Life is a serious book, with serious points to make, but it's also a wicked pleasure to read."--Adam Woog, The Seattle Times "Richard Price is one hell of a raconteur ... opening any of his books means getting hooked—you turn the first page on the commute back from work and next thing you know, it's 4am and you've polished off both the novel and an entire bag of Milanos."--Elisabeth Vincentelli, Time Out New York
"With LUSH LIFE Richard Price has become our post-modern American Balzac. Except that he's a whole lot funnier than Balzac and writes the language we hear and speak better than any novelist around, living or dead, American or French. He's a writer I hope my great-grandchildren will read, so they'll know what it was like to be truly alive in the early 21st century."  —Russell Banks
"This is it, folks. The novel about gentrified New York, circa right now, that we've been waiting for. Richard Price understands what's happened to our beloved city, he writes dialogue like a genius, and he absolutely, genuinely cares. Unforgettable." —Gary Shteyngart "Richard Price is the greatest writer of dialogue, living or dead, this country has ever produced. Wry, profane, hilarious, and tragic, sometimes in a single line,
Lush Life
is his masterwork. I doubt anyone will write a novel this good for a long, long time." —Dennis Lehane "Price writes with the slightly manic desperation of someone determined to tell the absolute truth . . . This heightened, anxious awareness of moral and psychological complexity . . . is one of the accomplishments of first-rate writing." —Francine Prose,
The New York Times Book Review
, on
Freedomland