Hallelujah Junction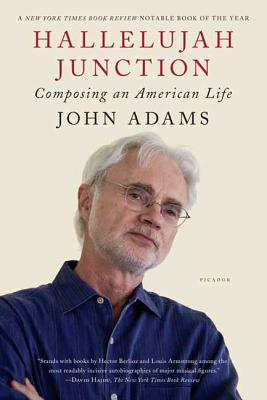 Hallelujah Junction
Composing an American Life
Picador USA, Paperback, 9780312428617, 340pp.
Publication Date: November 24, 2009
* Individual store prices may vary.
Buy Now
or
Shop Local
Enter your zip code below to purchase from an indie close to you.
Description
A" New York Times" Notable Book of the Year
A" San Francisco Chronicle" Notable Bay Area Book of the Year
A book unlike anything ever written by a composer--part memoir, part description and explication of the creative process--"Hallelujah Junction" is an absorbing journey across the musical landscape of America and through the life and times of John Adams, one of today's most admired and performed composers.
About the Author
1735-1826
Praise For Hallelujah Junction…
"No book I know of better captures the thrill of a moment of artistic freedom and innovation. . . . This is a book that any aspiring artist, in any medium, should read as a kind of how-to guide to achieving artistic success without losing integrity. . . . A book for anyone who wants to create something--including a self."--David Rollow,
The Boston Globe
"How Mr. Adams arrived at this particular harmonic language is largely the subject of his absorbing book, which at times reads like a quest narrative that travels through the whole landscape of twentieth-century music."--Chip McGrath,
The New York Times
"A lively, witty prose writer. . . . It's the range of Adams's musical appetites and intellectual hunger that leaves the strongest impression. This is a man who swallows whole new worlds with every fresh project he takes on--and makes his discoveries new for the rest of us."--Michael Upchurch,
The Seattle Times
"Engrossing . . . Like his music, Adams's voice in
Hallelujah Junction
is both playful and thoughtful, unafraid of making big emotional statements but obsessed with making sure those statements are precisely crafted. . . . An original and inspired book."--Wynne Delacoma,
Chicago Sun-Times
"John Adams is the voice of America . . . thoughtful, amusing, analytical--and a good writer. . . . To read something so intelligent, reasoned, and caring sure feels good these days."--Mark Swed,
Los Angeles Times
"Thoughtful, amusing, analytical . . . John Adams is the voice of America."--Mark Swede,
Los Angeles Times
"
Hallelujah Junction
stands . . . among the most readably incisive autobiographies of major musical figures."--David Hajdu
, The New York Times Book Review