The Finder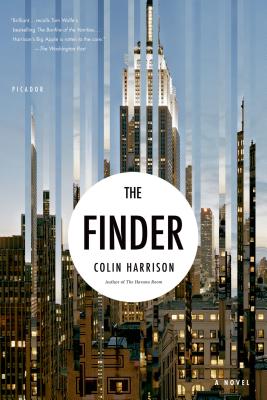 The Finder
Picador USA, Paperback, 9780312428884, 310pp.
Publication Date: May 26, 2009
* Individual store prices may vary.
Buy at Local Store
Enter your zip code below to purchase from an indie close to you.
or
Buy Here
Description
Jin Li is a beautiful, driven young woman running a dangerous little operation. Manhattan corporations hire her for a simple but delicate task: to shred and destroy the reams of highly classified documents. But they don't know that she and her brother, Chen, have been using their discarded secrets to game the international markets, making a pile of cash. When someone at the Good Pharma corporation, whose stock is plummeting, uncovers the scheme, two of Jin Li's workers die a grisly death, and Jin is on the run. Her brother extorts Jin's old flame, Ray Grant--an ex-firefighter with a disturbing 9/11 past--to track her down. He'll have to comb every strata of New York, from the brutal Mexican mafia to the greed-fueled penthouse billionaires of Wall Street, to find her.
An intricate tale of avarice, corruption, and power, Colin Harrison's masterful new thriller is a "brilliantly executed novel" ("The Baltimore Sun").
About the Author
Colin Harrison is Professor of Literacy Studies in Education at the University of Nottingham. His work is well known in the United Kingdom, USA, Canada, Australia and New Zealand. He is a former president of the UK Reading Association, and was a founder editor of the "Journal of Research in Reading".
He has been commissioned by the Scottish Office and by the UK government to write reviews of research in order to strengthen national initiatives whose intention is to have literacy policy firmly grounded in research.
Praise For The Finder…
"Brilliant . . . recalls Tom Wolfe's best-selling The Bonfire of the Vanities, but this is a far darker story and a far more interesting one. Harrison's Big Apple is rotten to the core."--The Washington Post

"Brutally effective . . . Harrison spins a fast-paced NYC crime novel. . . . Start reading this book and prepare to cancel all other plans for the next seven hours or so."--Entertainment Weekly (Grade: A)

"Harrison writes like Rambo on meth and throws in enough black humor to prove he's more brains than
brawn. . . . The Finder's a keeper."--USA Today

"Colin Harrison's New York is an eye-for-an-eye, dog-eat-dog Darwinian world with similar map coordinates to Tom Wolfe's Manhattan and the Los Angeles of Raymond Chandler and James Ellroy. . . . A chilling, high-speed roller coaster of a ride that doubles as a sardonic sightseeing tour of the seamier side of New York City." --The New York Times
"A satisfying thriller canvassing and connecting New York's hedge-fund billionaires with illegal immigrants scraping by on menial labor."--The Christian Science Monitor
"Some of the best writing being done today . . . Harrison displays a depth of reportorial knowledge to awe Tom Wolfe. . . . Perhaps the equal of Richard Price."--Sun-Sentinel (South Florida)
"Colin Harrison writes shrewd thrillers that probe the far reaches of New York society. . . . An uncommonly astute writer."--The Seattle Times