Mixed Blood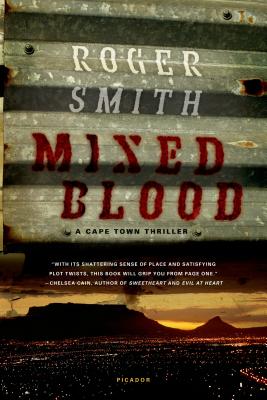 Mixed Blood
Picador USA, Paperback, 9780312429508, 316pp.
Publication Date: December 22, 2009
* Individual store prices may vary.
Buy Now
or
Shop Local
Enter your zip code below to purchase from an indie close to you.
Description
A corrupt cop, a gangbanger, and an ex-marine sitting on three million dollars in stolen cash find themselves entangled in this "cinematic cape town thriller" ("Bookpage").
Reluctant bank robber Jack Burn is on the run after a heist in the United States that left three million dollars missing and one cop dead. Hiding out in Cape Town, South Africa, he is desperate to build a new life for his pregnant wife and young son. But on a tranquil evening in their new suburban neighborhood, they are the victims of a random gangland break-in. Benny Mongrel, an ex-con night watchman, knows who went into Burn's house, and what the American did to them. Burn's actions soon trap them both in a cat-and-mouse game with Rudi "Gatsby" Barnard, a corrupt Afrikaner cop. Once Gatsby smells those missing American millions, the men are drawn into a web of murder and vengeance that builds to an unforgettable conclusion.
About the Author
Roger Smith is Senior Lecturer in the History of Science at Lancaster University, England. He is the author of "Trial by Medicine: Insanity and Responsibility in Victorian Trials" (Edinburgh, 1982) and co-editor (with Brian Wynne) of "Expert Evidence: Interpreting Science in the Law" (Routledge, 1989).
Praise For Mixed Blood…
"With its shattering sense of place and satisfying plot twists, this book will grip you from page one."--Chelsea Cain, author of Sweetheart and Evil at Heart
"Almost impossible to put down, offering the rewards of a literary thriller combined with the zip of a powerful movie."--The Florida Times Union
"Like Pelecanos, Smith captures the humanity burning in lives trapped by poverty and prejudice."--Booklist
"Smith's Cape Town is almost Dickensian in its presentation of thugs and murderers [and] an especially wonderful villain."--Richmond Times-Dispatch
"Mixed Blood is an unnerving thrill ride that kept me on edge from beginning to end. The set-up is terrific and the bad guy is really bad - but so are the good guys. Mixed Blood is a top notch debut thriller and I'm looking forward to Roger Smith's next book."—Phillip Margolin, author of
Executive Privilege
"Smith does an outstanding job of bringing Cape Town to life, taking us through the twists and turns of the local criminal world and the confusing labyrinth of racial identity in post-apartheid South Africa. His prose is crisp and efficient … [with a] fascinating and vividly conjured location."—Kirkus Reviews
"A gripping thriller that follows believable (if sometimes grotesque) characters along a desperate rush to ruin. Highly recommended."—Library Journal
"Smith offers a gritty tale of corruption and vengeance set in South Africa in his absorbing debut … Smith's taut prose bodes well for future thrillers from his pen."—Publishers Weekly

"[A] well-told, brutal tale…. Riveting."—The Roanoke Times

"Startling, vivid, frightening. A first-rate debut from an up-and-coming talent."—Eric Van Lustbader, author of First Daughter and The Bourne Sanction
"Smith's characters fight for their lives against a Cape Town heavy with heat, grime, corruption, and gang violence. With its shattering sense of place and satisfying plot twists, this book will grip you from page one."—Chelsea Cain, author of Heartsick and Sweetheart