The Patrick Melrose Novels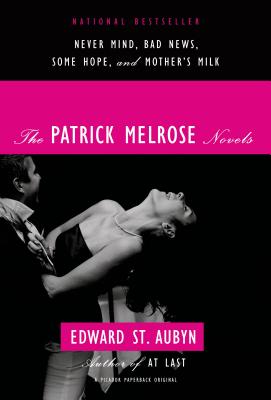 The Patrick Melrose Novels
Never Mind, Bad News, Some Hope, and Mother's Milk
Picador USA, Paperback, 9780312429966, 680pp.
Publication Date: January 31, 2012
* Individual store prices may vary.
Buy at Local Store
Enter your zip code below to purchase from an indie close to you.
or
Not Currently Available for Direct Purchase
Description
NATIONAL BESTSELLER
An" Atlantic Magazine" Best Book of the Year
A "Publishers Weekly" Best Book of the Year
"The Melrose Novels are a masterwork for the twenty-first century, written by one of the great prose stylists in England." Alice Sebold, author of "The Lovely Bones"
For more than twenty years, acclaimed author Edward St. Aubyn has chronicled the life of Patrick Melrose, painting an extraordinary portrait of the beleaguered and self-loathing world of privilege. This single volume collects the first four novels "Never Mind," "Bad News," "Some Hope," and "Mother's Milk," a Man Booker finalist to coincide with the publication of "At Last," the final installment of this unique novel cycle.
By turns harrowing and hilarious, these beautifully written novels dissect the English upper class as we follow Patrick Melrose's story from child abuse to heroin addiction and recovery. "Never Mind," the first novel, unfolds over a day and an evening at the family's chateaux in the south of France, where the sadistic and terrifying figure of David Melrose dominates the lives of his five-year-old son, Patrick, and his rich and unhappy American mother, Eleanor. From abuse to addiction, the second novel, "Bad News" opens as the twenty-two-year-old Patrick sets off to collect his father's ashes from New York, where he will spend a drug-crazed twenty-four hours. And back in England, the third novel, "Some Hope," offers a sober and clean Patrick the possibility of recovery. The fourth novel, the Booker-shortlisted "Mother's Milk," returns to the family chateau, where Patrick, now married and a father himself, struggles with child rearing, adultery, his mother's desire for assisted suicide, and the loss of the family home to a New Age foundation.
Edward St. Aubyn offers a window into a world of utter decadence, amorality, greed, snobbery, and cruelty welcome to the declining British aristocracy.
About the Author
Edward St. Aubyn was born in London in 1960. He is the author of the A Clue to the Exit, On the Edge, and the most recent Patrick Melrose novel, At Last (Farrar, Straus and Giroux). Mother's Milk was shortlisted for the Booker Prize.
Praise For The Patrick Melrose Novels…
"Like Waugh, St. Aubyn writes with exquisite control and a brilliant comic touch…Patrick often seems like a Philip Roth hero transplanted into a world of English privilege…The Patrick Melrose Series forms an exhaustive study of cruelty: its varieties, its motivations, its consequences, its moral implications…At Last is an intelligent and surprising novel, a fitting conclusion to the one of the best fictional cycles in contemporary fiction."—The Boston Globe
"Implausibly brilliant speech…The striking gap between, on the one hand, the elegant polish of the narration, the silver rustle of these exquisite sentences, the poised narrowness of the social satire and, on the other hand, the screaming pain of the family violence inflicted on Patrick makes these books some of the strangest of contemporary novels …This prose, whose repressed English control is admired by everyone from Alan Hollinghurst to Will Self, is drawn inexorably back to a fearful instability, to the nakedness of infancy."—James Wood, The New Yorker
"Gorgeous, golden prose…St. Aubyn is utterly fearless when faced with the task of unpacking and anatomizing the inner lives of characters. No emotion is so subtle and fleeting he can't convey it, or so terrifying or shameful that he can't face it."—Lev Grossman, Time
"Parental death, heroin, childhood rape, emotional frigidity, suicide, alcoholism…nothing about the plots can prepare you for the rich, acerbic comedy of St. Aubyn's world---or more surprising---its philosophical density."—Zadie Smith, Harper's Magazine
"Tantalizing…A memorable tour de force."—The New York Times Book Review

"I read the five Patrick Melrose novels in five days. When I finished, I read them again."—Ann Patchett, The Guardian

"Extraordinary…acidic humor, stiletto-sharp."—Francine Prose

"Intoxicatingly witty."—The New York Review of Books

"Why did it take me so long to fall in love with the brilliant novels of Edward St. Aubyn?"—Brett Easton Ellis

"The most brilliant English novelist of his generation."—Alan Hollinghurst
"Our purest living prose stylist."—The Guardian (London)
"A smoldering portrait of a class largely banished from fiction."—James Lasdun
"Exquisitely harrowing entertainment."—Sam Lipsyte
"A spectacularly toxic confection."—The Village Voice
"Dialogue as amusing as Waugh's and narrative even more deft than Graham Greene's."—Edmund White
"A staggeringly good prose stylist."—The Times (London)
"One of the preeminent writers of his generation."—Will Self
"Perversely funny."—People