Only Time Will Tell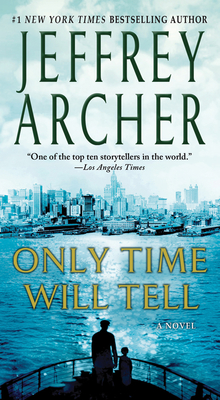 Only Time Will Tell
St. Martin's Press, Mass Market Paperbound, 9780312539566, 446pp.
Publication Date: February 28, 2012
* Individual store prices may vary.
Buy at Local Store
Enter your zip code below to purchase from an indie close to you.
or
Buy Here
Description
Only Time Will Tell
Jeffrey Archer
The first novel in the Clifton Chronicles, an ambitious new series that tells the story of a family across generations and oceans, from heartbreak to triumph, from #1" New York Times" bestselling author Jeffrey Archer
The epic tale of Harry Clifton's life begins in 1920, with the words "I was told that my father was killed in the war." A dock worker in Bristol, Harry never knew his father and expects to continue on at the shipyard, until a remarkable gift wins him a scholarship to an exclusive boys' school, and his life will never be the same again...
As Harry enters into adulthood, he finally learns how his father really died, but the awful truth only leads him to question: Was he even his father? Is he the son of Arthur Clifton, a stevedore, or the firstborn son of a scion of West Country society, whose family owns a shipping line? From the ravages of the Great War and the docks of working-class England to the streets of 1940 New York City and the outbreak of the Second World War, this is a powerful journey that will bring to life one hundred years of history to reveal a family story that neither the reader nor Harry Clifton himself could ever have imagined.
About the Author
Jeffrey Archer was educated at Oxford University, where as a world-class sprinter he represented Great Britain in international competition. He became the youngest member of the House of Commons in 1969, was appointed Deputy Chairman of the Conservative Party in 1985, and was elevated to the House of Lords in 1992.
All of his novels -- from 1974's Not a Penny More, Not a Penny Less to 1991's As the Crow Flies -- have been international bestsellers. Mr. Archer is married, has two children, and lives in Cambridge, England.
Praise For Only Time Will Tell…
Praise for
JEFFREY ARCHER
"One of the top ten storytellers in the world." —Los Angeles Times
"There isn't a better story-teller alive." —Larry King
"Archer plots with skill, and keeps you turning the pages." —The Boston Globe
"Cunning plots, silken style…. Archer plays a cat-and-mouse game with the reader." —The New York Times
"Archer is a master entertainer." —Time
"A storyteller in the class of Alexandre Dumas…unsurpassed skill." —Washington Post
And his novels
SHALL WE TELL THE PRESIDENT?
"Outrageous and top-notch terror." —Vogue
"The only difference between this book and The Day of the Jackal is that Archer is a better writer."—Chicago Tribune
"Authentic, literate, and scary."—Cosmopolitan
"The countdown is the thing; the pace, the pursuit, the what-next, the how-is-it-going-to-come-out…"—Boston Globe
"Holds the reader in a vicelike grip."—Penthouse
A PRISONER OF BIRTH
"A compelling read." —Newsday
 "Dynamite…plot twists and a slam-bang finale."—The Washington Post 
"Archer plots with skill, and keeps you turning the pages." —The Boston Globe
"Thoroughly enjoyable."—Publishers Weekly
"Compulsively readable."—Library Journal 
"Gripping."—The Vancouver Sun
"An exercise in wish fulfillment. The good may suffer, but the bad will get theirs in the end. The fun is watching it unfold."—St. Petersburg Times (Florida)
CAT O'NINE TALES
"Archer plots with skill, and keeps you turning the pages." —The Boston Globe
"The economy and precision of Archer's prose never fails to delight. The criminal doesn't always get away with his crime and justice doesn't always prevail, but the reader wins with each and every story."—Publishers Weekly (starred review)
FALSE IMPRESSION
"A worthy successor to The Da Vinci Code."—Liz Smith, New York Post
"Archer is back in top form with [this] latest thriller." —Library Journal (starred review)
"Thoroughly imagined...entertaining...thrilling." —Denver Post
"Murder and a high-stakes art-world theft are cleverly blended [in this] exciting...global thrill-ride." —Vancouver Sun
"Sail along from one high crime to the next....Archer is a great plotter....[and] in the middle of the action, [he] drops research gems."—Liz Smith, New York Post