Crashers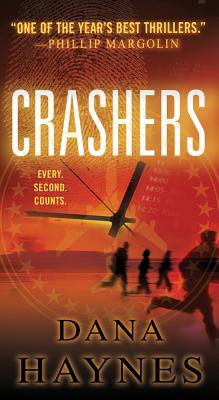 Crashers
St. Martin's Press, Mass Market Paperbound, 9780312544157, 518pp.
Publication Date: October 4, 2011
* Individual store prices may vary.
Buy Now
or
Shop Local
Enter your zip code below to purchase from an indie close to you.
Description
Whenever a plane goes down, a "Go Team" is assembled to investigate. The members of that team each a leading expert in a specific field are known as
Portland, Oregon: A passenger plane has gone down. Enter NTSB investigator and pathologoist "Tommy" Tomzak who leads his team a voice recorder specialist, bomb expert, engineer, mechanic, pilot, and crime scene specialist among them to grapple with the evidence. Usually the Crashers have months to determine the cause of a crash. But this time it's different: The plane appears to have been brought down "deliberately." The enemy might be one of their own. And an off-site operative who made a name for herself in Israeli intelligence has just made a catastrophic discovery: In less than three days, terror will strike the U.S. airways yet again
About the Author
Dana Haynes was, for more than twenty years, a journalist and editor at several newspapers in Oregon. He works for a local community college and lives in Portland, Oregon. He is the author of the thrillers "Crashers "and "Breaking Point".
Praise For Crashers…
"Outstanding! Crashers combines the ferocious action you usually see on a movie screen with a fascinating look at the way a major airline crash is investigated."—Phillip Margolin, New York Timesbestselling author of Supreme Justice
"You absolutely must read Crashers.  I literally couldn't put this book down. Dana Haynes is a gifted writer who grabs you on page one and doesn't let you go until the final page…"—Nelson DeMille, author of The Lion
"Strong characters, gruesome crash details, and the ticking countdown to another attack make this novel an explosive mix of 24 and CSI."—USA Today
"Dana Haynes delivers big-time with Crashers, a spectacular, timely, un-put-downable, near-perfect thriller whose every page sizzles with action, intrigue, information, and intelligence.  If you're a thriller fan, or even just a lover of fine writing and terrific story-telling, do yourself a big favor and buy this book."—John Lescroart, New York Timesbestselling author of Damage
 "This is a thriller that lands a rare and satisfying hat trick: The action sequences hit hard, the characters are idiosyncratic while still feeling like real people, and the 'snappy' dialogue actually snaps."—Kirkus Reviews
"The plane crash scenes are extremely graphic but absolutely essential to the reader's understanding of the aftermath of a plane downed by a terrorist strike…Filled with excitement and knowledge of NTSB procedures and problems. Highly recommended."—Library Journal (starred review)
"Haynes's compelling first thriller takes familiar elements—a mysterious airplane crash, a bent FBI agent, a deadly female spy—and mixes them with the world of National Transportation Safety Board aviation disaster investigations…The forensic details fascinate but aren't for the weak of stomach. Haynes nicely integrates several subplots involving terrorism. The slam-bang crash landing of a conclusion will leave readers anxiously awaiting the promised sequel."
—Publishers Weekly
"Lively and fast moving… generates plenty of tension. A solid debut."—Booklist
 "A supersonic jet of a thriller, loaded with compelling detail and page-turning
suspense and action!"—Jeff Abbott, New York Timesbestselling author of Trust Me
"Imagine an entire season of 24 crammed into a single book. That's what you get with Crashers, a fast-paced, twisty thriller that's just begging to be made into a movie."
—April Henry, New York Times bestselling co-author of Face of Betrayal and Hand of Fate