Fool Me Once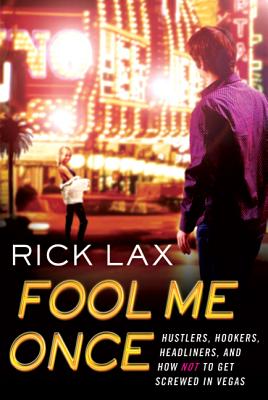 Fool Me Once
Hustlers, Hookers, Headliners, and How Not to Get Screwed in Vegas
Griffin, Paperback, 9780312545703, 295pp.
Publication Date: January 4, 2011
* Individual store prices may vary.
Buy Now
or
Shop Local
Enter your zip code below to purchase from an indie close to you.
Description
Rick Lax was paranoid to begin with. He saw lies everywhere. And when he saw them, he spoke up. But when his girlfriend gets conned by a violent drug dealer, nothing Rick does seems to help. So what if he misses the next lie? What if spotting them isn't enough to protect against them? What if exposing lies puts him in even more danger?
Terrified of being conned himself, Rick bolts for Vegas, deception capital of the world, to learn the game and how to guard against it. Rick meets deceivers of all kinds, from back-alley hustlers and poker pros to the biggest headliners on the Strip. During the course of his unconventional education, which includes passing himself off as an octogenarian, being exposed as a card counter, and picking up a hooker (inadvertently, of course), Rick gets closer to becoming a human lie detector but at what cost?
By the end of "Fool Me Once," you'll know why seventh graders make better liars than college students, how to use a handful of rice as a polygraph, and how to bluff a poker pro. But above all, you'll understand why some things in life are a lot worse than being fooled.
About the Author
Rick Lax attended the DePaul University College of Law and works as a freelance writer. He has written for "The Michigan Daily", "The American Enterprise", and "Sojourners". He is the author "Fool Me Once "and "Lawyer Boy". An amateur magician, he lives in Chicago, Illinois, where he continues to practice prestidigitation.
Praise For Fool Me Once…
Advance Praise for Fool Me Once

"It's a book that makes you want to move to Vegas… This book should be on your poolside reading list. The next time you need a book that is fun, helps you have a good time and requires no emotional attachment, Fool Me Once is what you are looking for."
--NYDailyNews.com

"Lax succeeds at taking readers into the Vegas singles/club world in a way that is funny, illuminating and self-effacing… Fool Me Once marks real growth for Lax."
--Las Vegas Weekly

"Fool Me Once is filled with entertaining stories about Lax finding a roommate (Oxana, a Russian dancer), learning how to get past choosy bouncers, hanging out with magicians, and discussing tips on picking up women from a master pickup artist."
--Vegas Seven

"An oddly addicting read… With his background in magic and law, and his journalistic curiosity, Lax is well-equipped to pierce the illusions that make up the Las Vegas façade."
--Las Vegas CityLife

"Rick Lax embedded himself with Vegas's most notorious magicians, call girls, and wheeler-dealers and emerged with a funny and fascinating cautionary tale for the rest of us. Anyone who's ever been scammed, bluffed, or lied to should read Fool Me Once."
---Kevin Roose, author of The Unlikely Disciple: A Sinner's Semester at America's Holiest University

"In a city where nothing is quite what it seems, Rick Lax introduces us to the showgirls, prostitutes, casino card counters, magicians, pickup artists, and street hustlers who work their short cons under the bright lights of the Las Vegas Strip. Fool Me Once is an illuminating read and terrific fun."
---David Grazian, author of On the Make: The Hustle of Urban Nightlife

"Plenty of cons and cheap hustles in this lively memoir of time spent on the seamier edge of Casinoland… An entertaining field guide to vice, but also one with a point—if you're headed anywhere near the Strip, watch your wallet."
---Kirkus Reviews

"Set in Las Vegas and incorporating a cast of characters including strippers, Criss Angel, bartenders, and Lance Burton, in the broadest sense, Fool Me Once is a funny, engaging, and personal discourse on deception in all its forms, magic tricks included."
--Magic

"Rick Lax has written a wry, laugh-out-loud love letter to the world of deception."
---Jim Steinmeyer, author of Art and Artifice: And Other Essays of Illusion

Praise for Lawyer Boy

"A hilarious memoir."
---Las Vegas Review-Journal

"First-time author Lax delivers an entertaining and sometimes zany look at the first year of law school… Lax's discoveries of what he didn't expect offer fascinating up-to-date insights."
---Publishers Weekly

"I'll be buying his books for a long time to come."
---A.J. Jacobs, author of The Year of Living Biblically and The Know-It-All