Stuck in the Middle (of Middle School)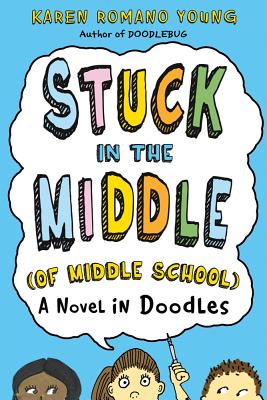 Stuck in the Middle (of Middle School)
A Novel in Doodles
Feiwel & Friends, Hardcover, 9780312555962, 112pp.
Publication Date: March 19, 2013
* Individual store prices may vary.
Buy at Local Store
Enter your zip code below to purchase from an indie close to you.
or
Not Currently Available for Direct Purchase
Description
In "Stuck in the Middle (of Middle School) "by Karen Romano Young, Doreen and her family had to move because of her once she got kicked out of school. She's vowed to make her new middle school work for her, but it's still a challenge, given her ADHD, her younger sister's growing popularity, and tensions between her parents, as they all adjust to a new city and new jobs. Add to that a lot of homework, a talent show, and her first gulp ] school dance, and you'll agree that Doreen needs to work extra hard to stay focused. Good thing she has her doodle-journal.
About the Author
When Karen Romano Young was growing up, she and her sisters and brother spent most of their time exploring the wetlands down the road. The mill there was home to a woman who taught her about the wetlands and only once yelled at her for destroying frog eggs by stepping on them. These days the author lives near a marsh full of frogs in Bethel, Connecticut, with her husband, three children, two guinea pigs, a dog, and a cat. In Her Own Words...
"My first published writing was a poem called My Secret Place. I wrote it in fourth grade, and it appeared in my local paper and in a book of 100 poems written by children in our school district. The place in the poem was a shady spot under trees, but more important was what I did there: write!
"I've kept a diary since I was nine, and as a child I wrote poems and stories and lots of letters. If I wasn't writing, I was reading. Everyone around me read-to themselves, to each other, to me. My grandmother has this saying framed on her wall: "Richer than 1, you will never be, for I had a mother who read to me." I'll add to that: My mother took me to the library-the Fairfield Children's Library in Fairfield, Connecticut, where I grew up. Once I was too old to have a child's card, I even worked there, looking after the picture books and children's novels all the way through high school and even on vacations home from my school, Syracuse University.
"Part of my college education was a semester in England, where I did an independent study of storytelling and folklore (especially, different versions of "Rumpelstiltskin") that took me all over the country reading and telling stories to children. At the end of college my English boyfriend, Mark Young, immigrated, and we got married in Connecticut.
"My first job was writing for Scholastic's news magazines-the ones kids use in their classrooms to learn about the news and lots of other things. What a cool job: interviewing all sorts of people, doing tons of research, writing on a very short deadline. It was hard and colorful and lively and exciting, and I spent every day in New York City. I had gone to college to learn to be a teacher-but now I was hooked on writing for a living and never went back to teaching.
"After our daughter Bethany was born, I decided I didn't need a New York office--or even a spot under the trees--to be able to write. I stayed home and worked in the spare bedroom. I wrote for all kinds of children's magazines, covering everything from rock climbing to rocket science.
"Around the time Sam was born, I began writing nonfiction books. I've written about so many different things, but I especially love writing about people and all the different ways they live their lives: high-wire artists, Arctic scientists, a lady who tap-danced across the Golden Gate Bridge, and a man who walked all the way around the world.
"When Emily was born, writing time was tight. But I had lots of time to think. During high school I had written a picture book called The Blue Volkswagen. Now I began thinking about where that old Beetle might be these days. One day I took the kids to the library. Outside, a woman was selling prints of her photographs. One of them showed an old Beetle sitting in the doorway of a barn. I bought it, took it home, and began writing a story in the twenty minutes a day I had to myself. I didn't write about my real self or about anything that had really happened to me, but I tried to think of my story as I would have felt or acted if I were Daisy living in that farmhouse at that time. After The Beetle and Me came Video, and more and more stories after that.
"My husband, children, dog, cat, guinea pigs, and I have a small, noisy, weird house in the Connecticut woods. Our lives are full of books, and we all read every chance we get. I write everyplace: in the kitchen, in the car, in the barn, in the school parking lot, in the Reading Room at the New York Public Library, at the beach. I write and write and write...."
Praise For Stuck in the Middle (of Middle School)…
"For kids wanting more books like Jeff Kinney's "Diary of a Wimpy Kid" series." -- School Library Journal 
"A finely crafted work . . . the format might recall a certain wimpy kid, but the content is better compared to the middle-grade novels of Kate Klise." -- Booklist
Praise for Stuck in the Middle (of Middle School):
"Young has a gift for capturing Doodlebug's scattered but perceptive outlook—'Permanent,' she writes (in permanent marker), 'is a word that doesn't seem to have anything to do with my family so far'—both in her writing and her authentically childlike illustrations."
"We can only hope that this amusing and touching title will soon have a sequel so that we can once again share in Dodo Doodlebug's world." –Through The Looking Glass Children's Book Reviews

"Like Melissa Moss' Amelia books, Young presents the story as if it is Doodlebug's notebook, incorporating drawings, graphs, and different kinds of lettering that are an integral part of the story and make this insightful look into a middle-grader's life a pleasure to read." –Booklist

"This novel's graphic format, showcasing narrator Doreen's clever doodles, will fascinate readers. They also will admire Doreen's spunk, honesty and problem-solving skills." –The Topeka Capital-Journal

"It is sure to inspire creativity in children and teach them they can overcome obstacles that they may encounter." –The Kansas City Star

"Young provides an engaging story about how Dodo reinvents herself as the Doodlebug in her new school, tracking her year in an illustration-filled notebook." –Scripps News

"An engaging, original heroine, a satisfying story and lots of great pictures…Charming and thoughtful." —starred, Kirkus Reviews