The Dream of Perpetual Motion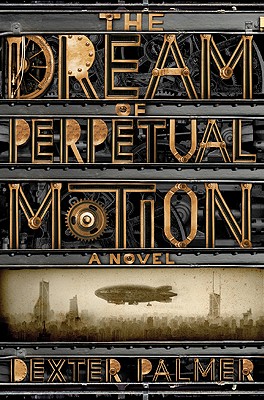 The Dream of Perpetual Motion
St. Martin's Press, Hardcover, 9780312558154, 352pp.
Publication Date: March 2, 2010
* Individual store prices may vary.
Buy at Local Store
Enter your zip code below to purchase from an indie close to you.
or
Not Currently Available for Direct Purchase
Description
A debut so magical… so extraordinary… it has to be read to be believed….
Imprisoned for life aboard a zeppelin that floats high above a fantastic metropolis, the greeting-card writer Harold Winslow pens his memoirs. His only companions are the disembodied voice of Miranda Taligent, the only woman he has ever loved, and the cryogenically frozen body of her father Prospero, the genius and industrial magnate who drove her insane.
The tale of Harold's life is also one of an alternate reality, a lucid waking dream in which the well-heeled have mechanical men for servants, where the realms of fairy tales can be built from scratch, where replicas of deserted islands exist within skyscrapers.. As Harold's childhood infatuation with Miranda changes over twenty years to love and then to obsession, the visionary inventions of her father also change Harold's entire world, transforming it from a place of music and miracles to one of machines and noise. And as Harold heads toward a last desperate confrontation with Prospero to save Miranda's life, he finds himself an unwitting participant in the creation of the greatest invention of them all: the perpetual motion machine.
Beautifully written, stunningly imagined, and wickedly funny, The Dream of Perpetual Motion is a heartfelt meditation on the place of love in a world dominated by technology.
About the Author
DEXTER PALMER lives in Princeton, New Jersey. He holds a Ph.D. in English Literature from Princeton University, where he completed his dissertation on the work of James Joyce, William Gaddis, and Thomas Pynchon (and where he also staged the first academic conference ever held at an Ivy League university on the subject of video games).
Praise For The Dream of Perpetual Motion…
Praise for The Dream of Perpetual Motion:
"Dexter Palmer has given us a novel that's magnificent and strange and maybe a little harrowing too; I don't know quite how he did it, but it seems to have something to do with his figuring out how to let words get out about and mean what they feel like meaning that day and yet at the same time be in a tempest too. Bravo for this beautiful book!"
--Rivka Galchen, critically acclaimed author of Atmospheric Disturbances
"The breadth and depth of Dexter Palmer's storytelling is exhilarating. He's written a smart, funny, sad, and beautiful novel, full of magic, mystery, mechanical men, and a delightful amount of mayhem."
--Scott Smith, New York Times Bestselling Author of The Ruins
"Like the majority of contemporary novelists, I have often fantasized about Jules Verne, Nathanael West, and Thomas Pynchon meeting up in some netherworld saloon and, upon discovering they have absolutely nothing in common save a mutual affection for The Tempest, agreeing to reify their enthusiasm via a three-way collaboration filled with zeppelins, androids, monsters, virtual islands, linguistic felicity, and state-of-the-art weirdness. And now I must thank Dexter Palmer for making my dream come true."
--James Morrow, author of The Last Witchfinder and The Philosopher's Apprentice
"The Dream of Perpetual Motion is plangent, tender and sui generis: a steampunk The Tempest with the grim and rippling beauty of a fairy tale.  Dexter Palmer is an ambitious writer, with vast reach toward the exploration of big ideas, among them what it means to create, the limits of the human body, and the uses and inadequacies of language. The marvelous kicker being, of course, that he has the moxie to do so in prose that sings."
--Lauren Groff, New York Times Bestselling Author of The Monsters of Templeton

"Dexter Palmer has written a strange, passionate, enthralling first novel, a novel which is itself a kind of perpetual motion machine---constantly turning, giving off more energy than it receives, its movement at once beautiful and counterintuitive." 
--Kevin Brockmeier, New York Times Bestselling author of The Brief History of the Dead
"In The Dream of Perpetual Motion, Dexter Palmer brings dignity coupled with an epic sense of fun to steampunk that I haven't seen since Jules Verne. Steampunk comes of age with this book."
--Jonathan Maberry, author of Patient Zero