Trespasser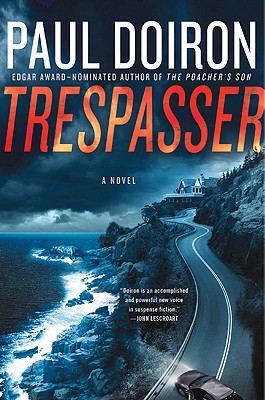 Trespasser
Minotaur Books, Hardcover, 9780312558475, 320pp.
Publication Date: June 21, 2011
* Individual store prices may vary.
Buy at Local Store
Enter your zip code below to purchase from an indie close to you.
or
Not Currently Available for Direct Purchase
Description
In Paul Doiron's riveting follow-up to his Edgar Award-nominated novel, "The Poacher's Son," Maine game warden Mike Bowditch's quest to find a missing woman leads him through a forest of lies in search of a killer who may have gotten away with murder once before.

While on patrol one foggy March evening, Bowditch receives a call for help. A woman has reportedly struck a deer on a lonely coast road. When the game warden arrives on the scene, he finds blood in the road--but both the driver and the deer have vanished. And the state trooper assigned to the accident appears strangely unconcerned.

The details of the disappearance seem eerily familiar. Seven years earlier, a jury convicted lobsterman Erland Jefferts of the rape and murder of a wealthy college student and sentenced him to life in prison. For all but his most fanatical defenders, justice was served. But when the missing woman is found brutalized in a manner that suggests Jefferts may have been framed, Bowditch receives an ominous warning from state prosecutors to stop asking questions.

For Bowditch, whose own life was recently shattered by a horrific act of violence, doing nothing is not an option. His clandestine investigation reopens old wounds between Maine locals and rich summer residents and puts both his own life and that of the woman he loves in jeopardy. As he closes in on his quarry, he suddenly discovers how dangerous his opponents are, and how far they will go to prevent him from bringing a killer to justice.
About the Author
Bestselling author Paul Doiron is the editor-in-chief of "Down East: The Magazine of Maine." A native of Maine, he attended Yale University, where he graduated with a degree in English, and he holds an MFA in creative writing from Emerson College. Paul is a Registered Maine Guide and lives on a trout stream in coastal Maine with his wife, Kristen Lindquist.
Praise For Trespasser…
"Doiron's plot is heart-pounding, filled with startling twists and turns. The main characters, some lovable and others despicable, are all multidimensional. And the stylish prose is pitch-perfect, especially in its evocative descriptions of the beauty, and occasionally the ugliness, of coastal Maine in early spring. The story's slam-bang ending leaves Mike's life in tatters, and the reader anxious to know what the author has in store for him next."—Associated Press
"Doiron delivers another perfectly plotted mystery peopled with multidimensional characters, but, in addition, his writing has matured. His descriptions of Maine's midcoast are incredibly evocative of the sights, sounds, and smells of early spring, and the heart-pounding account of Mike's fourwheeling chase through the woods is a masterpiece of high-octane narrative. Suggest this series to fans of C. J. Box and Nevada Barr."—Booklist (starred review)
"Doiron serves up a tense thriller that stars a memorable main character and brings the rugged Maine landscape vividly to life. Highly recommended for lovers of mysteries, particularly those set outdoors or in New England. Fans of C.J. Box and Castle Freeman will not be disappointed."—
Library Journal
(starred review)
"Doiron's second thriller featuring Mike Bowditch makes effective use of Maine's 'mud season,' that time when the weather is unpredictable and new life struggles to emerge from the snow, as a metaphor for Mike's internal struggle to put his life back on track. Doiron's sense of place, and of the people of Maine, adds lush nuance to this suspense-filled read. Well-paced, with an interesting array of elegantly rounded characters, this effort more than lives up to the promise of Doiron's debut."—RT Book Review (Top Pick, 4 ½ stars)
"A complex, heartfelt, altogether impressive piece of work."—Kirkus Reviews
"Compelling."—Publishers Weekly
"Engaging . . . Doiron is clearly a talented storyteller. . . . The book is hard to put down."—Portland Press Herald
"Doiron is an author to watch!"—Indiebound