Death Cloud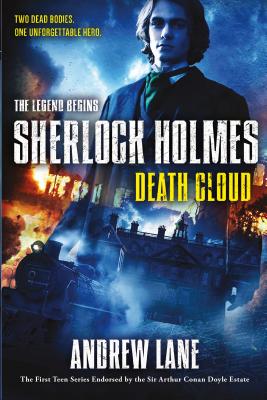 Death Cloud
Square Fish, Paperback, 9780312563714, 311pp.
Publication Date: October 25, 2011
* Individual store prices may vary.
Buy at Local Store
Enter your zip code below to purchase from an indie close to you.
or
Buy Here
Description
It is the summer of 1868, and Sherlock Holmes is fourteen. On break from boarding school, he is staying with eccentric strangers his uncle and aunt in their vast house in Hampshire. When two local people die from symptoms that resemble the plague, Holmes begins to investigate what really killed them, helped by his new tutor, an American named Amyus Crowe. So begins Sherlock's true education in detection, as he discovers the dastardly crimes of a brilliantly sinister villain of exquisitely malign intent.
About the Author
Andrew Lane is the author of the Young Sherlock Holmes series of young adult novels. He has also written numerous spin-off novels based on the BBC sci-fi television series Doctor Who, as well as definitive guides to Babylon 5 and the Wallace and Grommit films, and is the author of The Bond Files: An Unofficial Guide to the World's Greatest Secret Agent. He lives in Dorset, England.
Praise For Death Cloud…
"Andrew Lane begins a new series exploring the pre-history of the famous fictional detective. Mr. Lane has the approval of the descendants of Sir Arthur Conan Doyle, who wrote the original Holmes stories, and purists will applaud the way he salts the story with clues to the sleuth's adult propensities. . . . The dramatic, violent ending leaves enough narrative strings dangling that readers over the age of 12 who enjoy detective fiction will grab for the sequel next fall."—The Wall Street Journal
"Lane's writing style is action-packed and detail-oriented."—The Los Angeles Times
"Lane's command of what will one day become Holmes's signature methods is remarkable. . . . The novel strives to rescue Holmes from the prejudices of his creator, and thereby expand the pool of Holmes devotees. For that we can all be grateful."—The New York Times Book Review
"For a reader who has outgrown the Hardy Boys' adventures but still seeks mystery-solving plots, Andrew Lane's invention of a teenage Sherlock Holmes will seem timely. . . . Lane also knows how to do villains quite well."—Chicago Tribune
"Death Cloud quickly becomes a true page-turner."—Scripps Howard News Service
"Two recent series for young readers present Arthur Conan Doyle's great detective, Sherlock Holmes, as a teenager. Death Cloud by Andrew Lane and the sequels to come in Sherlock Holmes: The Legend Begins are pitched to the crowd that likes action movies but can see that the television series Psych is in the Sherlock Holmes family."—Newsday
"Just when you thought all teen reading had to have vampires, a new series for ages 12 and up goes to the heart and soul of detective fiction. Death Cloud: Sherlock Holmes, the Legend Begins introduces young readers to a 14-year-old Holmes. The book has been endorsed by the Conan Doyle estate as consistent with Sir Arthur Conan Doyle's vision of Holmes, important to parents who may be looking for books that send their young readers down a more traditional reading path."—The Cape Cod Times
"Middle-schoolers in search of branded action/adventure will certainly be entertained."—The Bulletin of the Center for Children's Books
"Lane successfully blends the traditional Holmesian confidence with the teen's awkward self-consciousness. . . . A menacing villain and an unexpected twist make for a thoroughly engaging read that will keep readers turning pages. Now, it's just a matter of waiting for the next tale."—School Library Journal, Starred Review
"This British import (the first teen series to be granted official endorsement from Sir Arthur Conan Doyle's literary estate) has punch—some literal—and purpose. . . . The rousing, almost fantastical conclusion will set readers up for the next installment."—Booklist
"A rollicking good read, this book will offer a solid introduction to the works of Sir Arthur Conan Doyle for younger teens. It also offers enjoyable insight into how Sherlock Holmes became the future investigative wizard for established fans of the ultimate detective."—Kirkus Reviews
"The book is engaging, and the mystery is creative and compelling. Fans of Sherlock Holmes at any age will enjoy this book, as will those who relish a good murder mystery."—VOYA
"What a blast. Weird murders, creepy villains, fiendish puzzles, non-stop action. What more could you want from a book?"—Charlie Higson, author of the internationally bestselling Young Bond series
"Should impress the detective's fans of all ages . . . An elementary success story."—The Independent (London)
"Death Cloud is the perfect way to introduce this character to a new generation of book readers."—Book Zone (for Boys)
"Rich in period detail, it has tasters of Holmes's deductive genius and insights into how his character was made, plus a diabolical villain . . . A self-contained and rewarding adventure."—The Sunday Times (London)