Puffling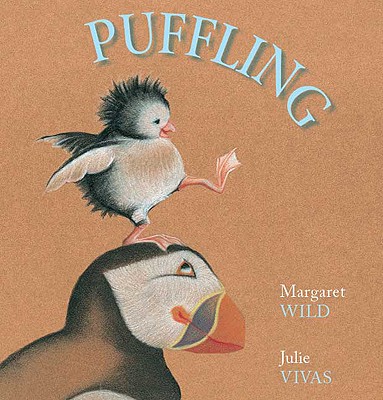 Puffling
Feiwel & Friends, Hardcover, 9780312565701, 32pp.
Publication Date: October 27, 2009
* Individual store prices may vary.
Not Currently Available for Direct Purchase
or
Shop Local
Enter your zip code below to purchase from an indie close to you.
Description
Puffling is a baby small, white, and very hungry. Every day he waits in the burrow while his parents, Big Stripy Beak and Long Black Feather hunt for food. As he grows, Puffling dreams of the day when he will leave his nest and fly away but he isn't ready yet, not until he's tall and brave enough to fend for himself. Every day Puffling asks his parents, but every day they say he must wait until he has grown bigger. Will he ever be ready to head out into the world on his own?
This story about how love makes us strong, brave, and happy, too, is perfect for so many milestones: first times with babysitters, first days of school, and even graduation.
About the Author
Margaret Wild was born in South Africa and came to Australia in 1972. She has been a journalist on newspapers and magazines, and she worked as a book editor in children's publishing for sixteen years, responsible for managing and commissioning a large range of titles. She livesin Sydney and now writes fulltime. Margaret has written more than 40 books for children. Her books are published around the world and have won numerous awards. Ann James was an art teacher before she took up children's book illustration over twenty years ago. She has illustrated more than 50 books since then. Well-known for her lively and fresh style, most of Ann's illustrations feature her own animals

JULIE VIVAS is illustrator of I Went Walking, Let's Go Visiting, the Mem Fox classics Wilfrid Gordon McDonald Partridge and Possum Magic, and several other picture book titles. She lives in Australia.
Praise For Puffling…
Praise for Puffling:
"Human children, tiptoeing into an ever widening world, will find comfort and inspiration in this feathered family."—The Washington Post
"Vivas's meticulously drafted pastels distinguish this coming-of-age story by the team behind Our Granny. … [M]ost will identify with his nascent sense of independence and adventure—and the confidence Puffling demonstrates when he successfully makes the big plunge."—Publishers Weekly
"In a palette that moves from the warm browns of the burrow to the vibrant blues and greens of the ocean waves, the spacious pictures blend cozy with wild and, like the gentle words, show how nurturing gives an individual strength."—Booklist, Starred Review
"This simple story finds originality and strength by refusing to assign gender roles, or even gender, to the puffling's caregivers. Big Stripy Beak and Long Black Feather, in their quiet neutrality, allow readers to see exactly what parents of any age, gender or configuration do—feed, love and prepare their baby for that great race to the surf." —Kirkus Reviews
"Illustrated in the rich browns of the burrow and dark blues of the ocean, Puffling beautifully tells the universal story of growth and maturity. Modern parents might learn a thing or two about raising children to be brave and strong so they will be ready for their own scary world. Puffling is a book to read over and over."—BookPage
"This feel-good story about the early weeks in the life of a puffling offers children a glimpse at the bird's life cycle and a predictable analogy between its loving family and those of readers."—School Library Journal
"Margaret Wild, a leading Australian leading author of children's books has written another classic story of family love and having the courage to strike out alone."—Ballarat Courier, Australia
"This is a story that is sure to touch everyone, parents and children alike."—Bookseller & Publisher magazine, Australia