The Lunatic's Curse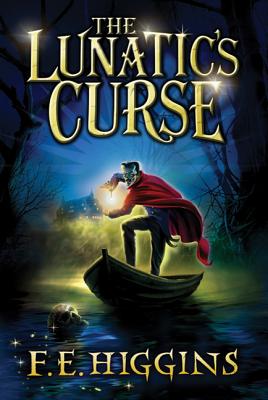 The Lunatic's Curse
Feiwel & Friends, Hardcover, 9780312566821, 336pp.
Publication Date: August 2, 2011
* Individual store prices may vary.
Buy Now
or
Shop Local
Enter your zip code below to purchase from an indie close to you.
Description
The town of Opum Oppidulum is home to the freezing Lake Beluarum and its rumored monster. On an island at the center of the lake is an asylum; no one has ever escaped it. So how will Rex, whose father, Ambrose Grammaticus, has been imprisoned there under false pretenses, prove that Ambrose is not insane? And if Rex can free his father, will his evil stepmother drive them both to madness?
Higgins' fans will devour this deliciously scary tale, a "polyquel" to her previous books, all of which can be read singly or together. But not in the dark . . .
About the Author
Born in London, F.E. Higgins now lives in a small village in rural Kent. "The Black Book of Secrets" is her first novel. The author has completed her second novel, "The Bone Magician," due out in fall 2008 from Feiwel and Friends.
Praise For The Lunatic's Curse…
"The Lunatic's Curse has a large cast of twisted characters and a winding plot that will keep readers delightfully immersed in macabre adventure."--School Library Journal  "This series is shaping up into an enticing, shadowy den where scary-story addicts can get their fix." --BCCB "…readers may find this a tempting, if slightly more serious, treat to follow Lemony Snicket." --Booklist "Readers with strong stomachs and a taste for melodramatic narratives bedizened with words like 'tenebrous' and 'mephitic' will devour this yarn with relish. So to speak." --Kirkus Reviews
Praise for The Eyeball Collector:
"Ultimately, this story is about not letting oneself sink to the level of one's enemies, but readers will be most taken by the delightfully dense atmospherics fairly dripping off the pages. Readers need not be familiar with Higgins' other books, but the hints dropped in to tie the world together will likely send them hunting for more while awaiting the next. A hyperquel, perhaps?"—Booklist
"Readers with a taste for lurid prose, macabre twists, riddles, exotic poisons, high-society caricatures, murderous schemes and scenes of stomach-churning degeneracy will find some or all of these in every chapter, and though the author trots in multiple characters and references from previous episodes, this one stands sturdily on its own."—Kirkus Reviews
"It is a dark and diabolical story, set in an alternative universe that is distinctly Dickensian and peopled with Higgins's creepiest cast yet. …Higgins's clever and intricate plot moves along swiftly. Her dark atmosphere is well drawn, with stunning graphic images that are not for the faint of heart. Riddles are laced throughout the novel, with answers appended. …This "polyquel" will appeal to mature readers who enjoy highly imagined dark stories."—School Library Journal
"As in companion books The Black Book of Secrets (rev. 1/08) and The Bone Magician, oddities checker the plot; coincidences drive the narrative; threads from previous stories emerge and are rewoven into the fabric. Here the gothic tension is ratcheted even higher… In the end, Hector must choose between his desire for revenge and his father's advice not to become like those who wronged him—but his choice doesn't prevent the climactic orgy of macabre circumstances that will leave readers shivering with pleasurable horror."—The Horn Book Review
"Higgins has a marvelous flair for the macabre, and her deft pacing escalates to a satisfying crescendo of shivers….  Readers who appreciate the grotesqueries of Cirque du Freaks—but packaged with fine writing and a well-conceived plot—will want to add this to their collection."—BCCB
Praise for The Bone Magician:
Set in Urbs Umida, where 'merely to be born was considered the first step towards dying', The Bone Magician . . . is a deliciously dark Gothic thriller-cum-Holmesian-whodunit, the writing so atmospheric that the fumes from the noxious River Foedus, where the murder victims end up, seem to seep off the page and swirl round the reader.—The Telegraph, UK 
Young readers with a taste for the macabre will find it deliciously scary.—The
Guardian,
UK Praise for
The Black Book of Secrets
: "The story's vaguely Dickensian atmosphere is exquisite . . . a smart, peculiarly thrilling book that is sure to appeal to readers ready to sidestep the goody-goody Harry Potters of adventure fiction."—
Booklist
, Starred Review
"
The Black Book of Secrets
has it all: danger, adventure, theft, murder, body snatching, poisonings, a touch of humor, and enough mystery to keep you guessing until the very end. . . . An enjoyable story that begs for a sequel."—
PW Children's Bookshelf
, "Galley Talk"
"Higgins creates a fascinating novel peopled with colorful characters and imbued with clever plot twists . . . and the novel's climax is both excellent and surprising."—Voices of Youth Advocates
"Wonderful. Anyone looking for the next big thing has come to the right place. Higgins has created a uniquely grim fantasy world that more than holds its own with Dickens or Peake. Her characters are brilliantly realised and the story grabs at the reader with hooked talons."—Eoin Colfer
"A fantastic debut . . . don't let this book remain a secret!"—John Webb, Waterstone's Children's Fiction Buyer