Ripper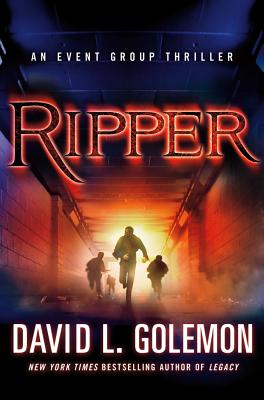 Ripper
Thomas Dunne Books, Hardcover, 9780312580803, 368pp.
Publication Date: July 17, 2012
* Individual store prices may vary.
Buy at Local Store
Enter your zip code below to purchase from an indie close to you.
or
Not Currently Available for Direct Purchase
Description
The real Jack the Ripper is loose, and this time he's brought friends to the darkness of the deep desert in the newest adrenaline rush from David Golemon, "The New York Times" bestselling author of" Legacy."
In the tradition of works by James Rollins, Preston and Child and Matthew Reilly, "Ripper "is the latest in an action-packed series about the nation's most secret agency The Event Group. In 1887, the British Empire contracted brilliant American professor Lawrence Ambrose to create a mutant gene to turn an ordinary person into an aggressive fighting machine. But all too quickly, Ambrose was found to be behind a streak of vicious murders, and in a cover-up of massive proportions, Queen Victoria ordered the project, and Ambrose, terminated. Thus the legend of Jack the Ripper was born.
The killings stopped as suddenly as they had begun but not because Ambrose was caught. Instead, he escaped and returned home to America where he and his formula faded into history. But in 2012, a raid against a Mexican drug lord uncovers a small cache of antiquated notebooks containing long-buried instructions to create blind killers out of normal men. Enter the Event Group and Col. Jack Collins, who are desperate to stop one of their most feared enemies. When the formula is loosed in the underground halls and vaults of the Event Group complex itself, brother will battle brother, and for the first time in many men's brave lives they will understand the true meaning of fear.
The next heart-stopping chapter in the "New York Times" bestselling Event Group series, "Ripper" takes readers to new levels of suspense, where death could be hiding around any corner on this non-stop thrill ride.
About the Author
David L. Golemon is the author of the Event Group Thrillers, including Event", Ancients, Leviathan" and "Primeval." "Legend", the second book in the series, was nominated for a RITA award for paranormal fiction. Golemon learned an early love of reading from his father, who told him that the written word, unlike other forms, allows readers to use their own minds, the greatest special effects machines of all an idea Golemon still believes. The only thing he loves more than writing is research, especially historical research, and he sees the subtext of his Event novels as being that understanding history allows us to create a better future. Golemon grew up in Chino, California, and now makes his home in New York.
Praise For Ripper…
Praise for Ripper:
"[A]n explosive combination that features the author's immense imagination. It's difficult to ground such fantastic science and weirdness in reality, but Golemon makes it look effortless… tense, terrifying — and worth the investment. Readers not familiar with the Event Group will find this book the perfect place to start." –Associated Press
"The latest suspenseful Event Group thriller (see Legacy) is an exciting action-packed tale that deftly links Ripper to the contemporary war on drugs… fans will enjoy this engaging entry filled with action and a thrill seemingly around every corridor and cave." –The Mystery Gazette
Praise for the novels of David L. Golemon
Primeval:
"Golemon knows how to make readers turn the pages, and Primeval will only further enhance his reputation." --Booklist
Ancients:
"A mix of the James Rollins action-heavy adventure, the military gadgetry of Tom Clancy, the pacing of the television series 24, and the conspiracy theories devoured by fans of the radio show Coast to Coast AM." –Booklist
Legend:
"A tale worthy of the giants of the genre like Clive Cussler, James Rollins, and Matthew Reilly."
—Megalith.com 
"Golemon can write action sequences with the best of them, and he lands a solid uppercut with this book. The depth of the science fiction lies under the surface for the most of the work, but is surprising and ingenious none the less." --SFSignal.com
Event:
"A promising debut sure to satisfy fans of The X-Files . . . the plotting and hair's-breadth escapes evoke some of the early work of Preston and Child, and the author's premise offers a rich lode of materials for inevitable sequels." --Publishers Weekly

"A flat-out adrenaline rush." --New York Times bestselling authors Judith and Garfield Reeves-Stevens