Murder on the Eiffel Tower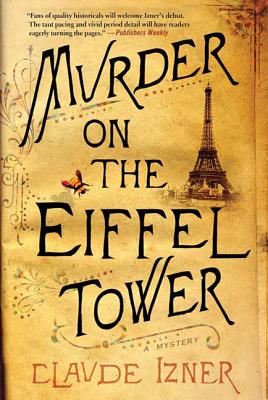 Murder on the Eiffel Tower
Minotaur Books, Paperback, 9780312581619, 292pp.
Publication Date: September 15, 2009
* Individual store prices may vary.
Buy at Local Store
Enter your zip code below to purchase from an indie close to you.
or
Buy Here
Description
The brand-new, shiny Eiffel Tower is the pride and glory of the 1889 World Exposition. But one sunny afternoon, as visitors are crowding the viewing platforms, a woman collapses and dies on this great Paris landmark. Can a bee sting really be the cause of death? Or is there a more sinister explanation? Enter young bookseller Victor Legris. Present on the tower at the time of the incident, and appalled by the media coverage of the occurrence, he is determined to find out what actually happened. In this dazzling evocation of late nineteenth-century Paris, we follow Victor as his investigation takes him all over the city and he suspects an ever-changing list of possible perpetrators. Could mysterious Kenji Mori, his surrogate father and business partner at the bookstore Legris operates, be involved in the crime? Why are beautiful Russian illustrator Tasha and her colleagues at the newly launched sensationalist newspaper Passepartout always up-to-date in their reporting? And what will Legris do when the deaths begin to multiply and he is caught in a race against time?
Murder on the Eiffel Tower is painstakingly researched, an effortless evocation of the glorious City of Light, and an exciting opening to a promising series of eight books featuring Victor Legris.
About the Author
Claude Izner is the pseudonym of two sisters, Liliane Korb and Laurence Lefevre. Both are secondhand booksellers on the banks of the Seine and experts on nineteenth-century Paris.
Praise For Murder on the Eiffel Tower…
"Izner combines a sparkling puzzle (reminiscent of one of Agatha Christie's most famous novels) with complex characters and appealing descriptions of Paris, and Murder on the Eiffel Tower is a well-executed beginning to a series with great potential." -- The Richmond Times Dispatch
"An extremely satisfying traditional mystery with lots of suspects and panache. Izner writes in a witty, breezy style, which conjures up the Paris of 1889 and the huge sprawl of the exhibition. The plot is terrific, and who can't enjoy another good time in the City of Light..."--Providence Journal-Bulletin
"Fans of quality historical will welcome Izner's debut. The taut pacing and vivid period detail will have readers eagerly turning the pages." --Publishers Weekly
"...the energetic curiosity of the hero dovetails nicely with the readers' interest in a fascianting era. The colorful supporting cast lays a solid foundation for Victor's further exploits." -- Kirkus Reviews
"Reading Izner is like taking a ride into the belle epoque in a time machine. A wonderfully breathtaking ride." ---Boris Akunin, author of The Winter Queen, The Turkish Gambit, and Sister Pelagia and the White Bulldog
"I read this charming, evocative, and suspenseful book with the mounting excitement I always get when I realize I've found a new series---I can't wait for the next Victor Legris book. What a pleasure it is to visit Paris with such an expert tour guide!" ---Charles Finch, author of A Beautiful Blue Death and The September Society
"A book of great charm---full of delightful historical detail---and deftly written." ---Frank Tallis, author of A Death in Vienna and Vienna Blood
"[A] clock-beating thriller . . . entertaining views of nineteenth-century Paris." ---Financial Times (UK)
"A charming journey through the life and intellectual times of an era." --
Le Monde

"Evokes the electric atmosphere of Paris...in 1889" --
Le Nouvel Observateur
"Isabel Reid's seamless translation captures the novel's many period charms." --
The Independent
 "...a charming and amusing whirl around a time of rapid social an intellectual  change." --
The  Morning Star
"...original...well-plotted and atmospheric."
--
FidraBooks.co.uk
"The plot is ecxiting and the story just raced away...an enjoyable introduction to this author." --CrimeSquad.com
"A fascinating book...strong and intriguing." --MonstersAndCritics.com