The Race Underground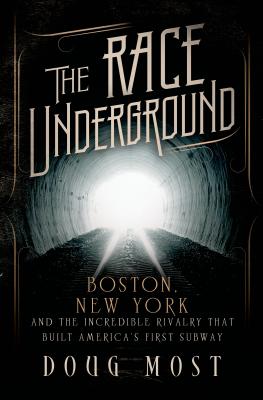 The Race Underground
Boston, New York, and the Incredible Rivalry That Built America's First Subway
St. Martin's Press, Hardcover, 9780312591328, 404pp.
Publication Date: February 4, 2014
* Individual store prices may vary.
Buy at Local Store
Enter your zip code below to purchase from an indie close to you.
or
Buy Here
Description
In the late nineteenth century, as cities like Boston and New York grew more congested, the streets became clogged with plodding, horse-drawn carts. When the great blizzard of 1888 crippled the entire northeast, a solution had to be found. Two brothers from one of the nation's great families-Henry Melville Whitney of Boston and William Collins Whitney of New York-pursued the dream of his city digging America's first subway, and the great race was on. The competition between Boston and New York played out in an era not unlike our own, one of economic upheaval, life-changing innovations, class warfare, bitter political tensions, and the question of America's place in the world.
"The Race Underground" is peopled with the famous, like Boss Tweed, Grover Cleveland and Thomas Edison, and the not-so-famous, from brilliant engineers to the countless "sandhogs" who shoveled, hoisted and blasted their way into the earth's crust, sometimes losing their lives in the construction of the tunnels. Doug Most chronicles the science of the subway, looks at the centuries of fears people overcame about traveling underground and tells a story as exciting as any ever ripped from the pages of U.S. history. The Race Underground is a great American saga of two rival American cities, their rich, powerful and sometimes corrupt interests, and an invention that changed the lives of millions.
About the Author
Doug Most is the deputy managing editor for features at "The Boston Globe." He is the author of "Always in Our Hearts: The Story of Amy Grossberg, Brian Peterson, the Pregnancy They Hid and the Child They Killed." He has written for "Sports Illustrated," "Runner's World" and "Parents "and his stories have appeared in "Best American Crime Writing" and "Best American Sports Writing." He lives in Needham, Massachusetts.
Praise For The Race Underground…
"Mr. Most weaves together the egos, political hurdles and other daunting challenges…in a sweeping narrative of late-19th-century intrigue." –The New York Times

"Doug Most's meticulously researched history reveals that getting the subways built was more a collaborative than a competitive effort...Who then won the race? That would be giving away the climax of an exciting book." –The Economist

"Before last week's back-to-back snowstorms, there was the great blizzard of 1888. With New York City at a halt, explains journalist Most, the influential Whitney brothers of NYC and Boston dreamed of a city subway system to beat bad weather. But each brother wanted his own city to be the first to finish its subway: And so the great Boston-New York subway race was on. Makes today's Yankees-Red Sox rivalry seem tame by comparison." – The New York Post
"At first glance, a history of American public transit might sound like something you'd be forced to read in an engineering class. But the Boston Globe's Doug Most has come at the potentially dry subject from a unique and engaging angle: The story of two brothers — one in New York City and one in Boston — who each dreamed of creating America's first subway system in their respective cities. Most's narrative chronicles tackles the enormous undertaking at every level, from the high-powered political figures at the top to the "sandhogs" who created the tunnels, offering an intriguing top-down look at American transit." —The Week, "18 Books to Read in 2014"
"It is a story of rapscallions and risk takers, engineers and entrepreneurs, dreamers, darers, and doers — and it is thoroughly researched and splendidly narrated by Doug Most." –
Boston Globe


"Our subways are the vital lifelines of our greatest cities. They are also symbols of our indebtedness to earlier generations who through innovation and perseverance took us from horse-powered transportation to subterranean rail. Doug Most's
The Race Underground
is a fascinating account of how New York and Boston tunneled their way into the future. This book proves again that American history is a treasure trove of great stories, this one filled with drama, sacrifice, loss and unimaginable success." —Ken Burns, filmmaker, creator of the PBS series
The Civil War
and many others
"A terrific book that makes us take a second look at our past and makes us wonder about possibilities for the future. This a love poem to the power of the human imagination." —Leigh Montville,
New York Times
bestselling author of
Ted Williams


"Combine the propulsive energy of
Devil In the White City
with the meticulous detail of
The Great Bridge
and you get
The Race Underground
. Most's addictive tour de force infuses a story that changed the course of American history with all the drama and excitement of a great thriller." —Seth Mnookin, award-winning author of
The Panic Virus: The True Story Behind the Vaccine-Autism Controversy
and the bestseller
Feeding the Monster: How Money, Smarts and Nerve Took a Team to the Top

"Imagine my disappointment when my college professor assigned
Notes From the Underground
and it turned out to be a mere existential novella. Finally, we get the book I wanted –
The Race Underground
—a history of Boston, New York and the building of America's First Subway. Give me Doug Most over Dostoyevsky anytime." —Dan Shaughnessy, author of
Francona, The Red Sox Years


"
The Race Underground
is a great American tale, filled with moments of surprising drama and unforgettable characters fighting against impossible odds. Doug Most hasn't just written a book for history buffs and train lovers; he's written something wonderful for us all." —Keith O'Brien, author of
Outside Shot


"An almost flawlessly conducted tour back to a time when major American cities dreamed big." —
Kirkus Reviews
(starred)
"A remarkably well-told story filled with villains, heroes, and events of the Gilded Age...While many books have been written about New York City's subway, few have documented Boston's herculean accomplishment in beating New York. Most deserves credit for setting the historical record straight. This felicitous tale of American ingenuity and perseverance serves as a useful reminder today of our past commitment to improving our infrastructures as we now face the challenge of stopping their deterioration." —
Library Journal


"[Most] delivers a fun and enjoyable read about a vital, transformative period." —
Publishers Weekly


"
The Race Underground
tells the story of how we got there, and it's an enlightening—and surprisingly exciting--ride." –
Shelf Awareness
(starred review)