Tempting Fate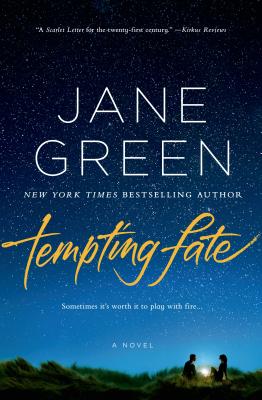 Tempting Fate
St. Martin's Press, Hardcover, 9780312591847, 343pp.
Publication Date: March 25, 2014
* Individual store prices may vary.
Buy Now
or
Shop Local
Enter your zip code below to purchase from an indie close to you.
Description
From Jane Green, the "New York Times" bestselling author of such beloved novels as "Jemima J," "The Beach House," "Another Piece of My Heart," comes an enthralling and emotional story about how much we really understand the temptations that can threaten even the most idyllic of relationships .
Gabby and Elliott have been happily married for eighteen years. They have two teenaged daughters. They have built a life together. Forty-three year old Gabby is the last person to have an affair. She can't relate to the way her friends desperately try to cling to the beauty and allure of their younger years And yet, she too knows her youth is quickly slipping away. She could never imagine how good it would feel to have a handsome younger man show interest in her until the night it happens. Matt makes Gabby feel sparkling, fascinating, "alive" something she hasn't felt in years. What begins as a long-distance friendship soon develops into an emotional affair as Gabby discovers her limits and boundaries are not where she expects them to be. Intoxicated, Gabby has no choice but to step ever deeper into the allure of attraction and attention, never foreseeing the life-changing consequences that lie ahead. If she makes one wrong move she could lose everything and find out what really matters most.
A heartfelt and complex story, "Tempting Fate" will have readers gripped until they reach the very last page, and thinking about the characters long after they put the book down.
About the Author
A former feature writer for the Daily Express in the UK, Green took a leap of faith when she left, in 1996, to freelance and work on a novel. Seven months later, there was a bidding war for her first book, Straight Talking, the saga of a single career girl looking for the right man. The novel was a hit in England, and Green was an overnight success. Most weekends see her cooking for a minimum of twenty people in her home in Westport, Connecticut, where she lives with her husband and their blended family. When she is not writing, cooking, filling her house with friends and looking after their animals, she is usually thanking the Lord for caffeine-filled energy drinks.
Praise For Tempting Fate…
Praise for Tempting Fate:

"The author, one of the first ladies of chick lit, once again exemplifies the best qualities of the genre...her compelling tale reflects an understanding of contemporary women that's acute and compassionate, served up with style." —People

"Complex and funny family drama" —US Weekly

"You'll have trouble putting it down." —Detroit Free Press  

"Green is one of the great entertainers in popular fiction, with 14 previous novels that large numbers of readers have taken to heart. Her work is what might be described as smart escapism, stories that deal with issues we all can relate to, but that serve up ideas in the context of wonderful stories that keep us turning pages. More often than not we see the world through the eyes of a charming, striving woman." —Connecticut Post 

Praise for Family Pictures:

"Family Pictures left me feeling envious of the friends to whom I recommended the book, because they had the prospect of an engrossing story to gobble up in the near future. Green's novels consistently deliver believable, accessible, heartfelt, often heartwarming stories about real people, problems, and feelings." —Redbook

"Will linger with you after you close the book." —People
"A riveting story about two women who are strangers until a shocking secret brings them together." —SheKnows.com
 
"Explores complex family dynamics with warmth. An inverted fairytale in which happily-ever-after occurs without the prince." —Kirkus Reviews
"This gripping story is ultimately one of redemption. Green's many fans won't be disappointed, and this would be an excellent choice for readers who enjoy the fiction of Jennifer Weiner or Marian Keyes." —Library Journal

"An absorbing read with a gratifying conclusions." —Booklist
"The women she writes about are believable and likable characters, but their lives are also complicated and rooted in realities that keep them grounded."  —Baltimore Sun "Bestselling author Green's compelling novel will shock and surprise readers with a startling revelation as surely as it will tug on their heartstrings. Once again she displays her gift for creating characters readers will care about." —RT Book Reviews, "Top Pick"