A Secret Kept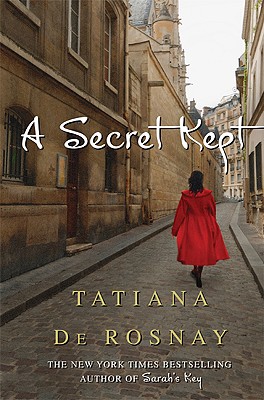 A Secret Kept
St. Martin's Press, Hardcover, 9780312593315, 305pp.
Publication Date: September 14, 2010
* Individual store prices may vary.
Buy at Local Store
Enter your zip code below to purchase from an indie close to you.
or
Not Currently Available for Direct Purchase
Description
This stunning new novel from Tatiana de Rosnay, author of the acclaimed "New York Times" bestseller "Sarah's Key," plumbs the depths of complex family relationships and the power of a past secret to change everything in the present.
It all began with a simple seaside vacation, a brother and sister recapturing their childhood. Antoine Rey thought he had the perfect surprise for his sister Melanie's birthday: a weekend by the sea at Noirmoutier Island, where the pair spent many happy childhood summers playing on the beach. It had been too long, Antoine thought, since they'd returned to the island--over thirty years, since their mother died and the family holidays ceased. But the island's haunting beauty triggers more than happy memories; it reminds Melanie of something unexpected and deeply disturbing about their last island summer. When, on the drive home to Paris, she finally summons the courage to reveal what she knows to Antoine, her emotions overcome her and she loses control of the car.
Recovering from the accident in a nearby hospital, Melanie tries to recall what caused her to crash. Antoine encounters an unexpected ally: sexy, streetwise Angele, a mortician who will teach him new meanings for the words life, love and death. Suddenly, however, the past comes swinging back at both siblings, burdened with a dark truth about their mother, Clarisse.
Trapped in the wake of a shocking family secret shrouded by taboo, Antoine must confront his past and also his troubled relationships with his own children. How well does he really know his mother, his children, even himself? Suddenly fragile on all fronts as a son, a husband, a brother and a father, Antoine Rey will learn the truth about his family and himself the hard way.
By turns thrilling, seductive and destructive, with a lingering effect that is bittersweet and redeeming, "A Secret Kept "is the story of a modern family, the invisible ties that hold it together, and the impact it has throughout life.
A film is now in production, to star Melanie Laurent ("Inglourious Basterds," "Now You See Me"), Laurent Lafitte ("The Crimson Rivers," "Little White Lies"), and Audrey Dana ("Roman de Gare," "The Clink of Ice") and will begin shooting in April
About the Author
Tatiana de Rosnay is the author of more than ten novels, including the "New York Times "bestselling novel "Sarah's Key," an international bestselling sensation with over two million copies sold in thirty-five countries worldwide. Together with Dan Brown, Stephenie Meyer, and Stieg Larsson, she was named one of the top ten fiction writers in Europe in 2009. Tatiana lives with her husband and two children in Paris, where she is at work on her next novel.
Praise For A Secret Kept…
Praise for A Secret Kept: "The story of an emotionally distant family as it struggles to come to grips with changing dynamics and the mysterious death of a young mother many years ago[...] De Rosnay's writing is eloquent and beautiful, and her characterizations are both honest and dead-on[...]" -Kirkus
"A Secret Kept is a beautiful and haunting exploration of wanting - and not wanting - to understand one's past, of learning to see parents as individuals, whether the parents in question are our own or ourselves."  -Erica Bauermeister, bestselling author of The School of Essential Ingredients
"In A Secret Kept, Tatiana de Rosnay takes us on a journey to that haunted place where the past seeps into the present, where memory appears and disappears, and where healing seems always out of reach. With her lyrical prose and her gift for creating deeply sympathetic characters, de Rosnay has given us a hopeful story, as addictive as it is moving." -Diane Chamberlain, New York Times bestselling author of Summer's Child
 Praise for
Sarah's Key
 "A haunting, riveting novel... This book grabs your heart in the opening chapter, and its scenes and characters stay with you long after you finish." --Publishers Weekly, a PW 2008 Staff Pick
"Masterly and compelling, it is not something that readers will quickly forget. Highly recommended."-Library Journal, Starred Review
"A wonderful book." --Joy Behar, The View 
"This is the shocking, profoundly moving and morally challenging story...  It will haunt you, it will help to complete you… nothing short of miraculous."  -Augusten Burroughs, New York Times bestselling author of You Better Not Cry and A Wolf At the Table
"Just when you thought you might have read about every horror of the Holocaust, a book will come along and shine a fierce light upon yet another haunting wrong.  Sarah's Key is such a novel.  In remarkably unsparing, unsentimental prose... through a lens so personal and intimate, it will make you cry--and remember." -Jenna Blum, New York Times bestselling author of Those Who Save Us
"Exceptional, emotional, and compelling…" – Sacramento Bee