The Snow Globe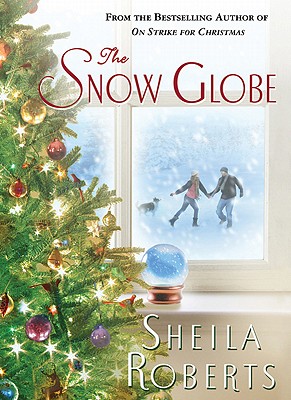 The Snow Globe
St. Martin's Press, Hardcover, 9780312594480, 176pp.
Publication Date: October 26, 2010
* Individual store prices may vary.
Buy at Local Store
Enter your zip code below to purchase from an indie close to you.
or
Not Currently Available for Direct Purchase
Description
Discover an unforgettable holiday treasure in Sheila Roberts' heartwarming tale of love and laughter, magic and miracles, friendship and coming home…
On a blustery afternoon, Kylie Gray wanders into an antique shop and buys an enchanting snow globe.  "There's a story behind that snow globe," the antique dealer tells her.  The original owner, he explains, was a German toymaker who lost his wife and son right before Christmas.  When the grieving widower received the handcrafted snow globe as a Christmas gift, he saw the image of a beautiful woman beneath the glass—a woman who would come into his life, mend his broken heart and bring him back to the world of the living.  For years, the snow globe has passed from generation to generation, somehow always landing in the hands of a person in special need of a Christmas miracle. 
Kiley could use a miracle herself.  This year, all she wants for Christmas is someone to love.  A hopeful shake leads her on an adventure that makes a believer out of her. When Kylie shares the story of the snow globe with her best friends—two women with problems of their own—they don't believe it.  But they're about to discover that at Christmastime, sometimes the impossible becomes possible and miracles really do come true.
About the Author
Sheila Roberts is the author of On Strike for Christmas, Small Change, Bikini Season, and other bestselling books. Before settling into her writing life, Roberts did lots of other things, including owning a singing telegram company and playing in a band. Now, when she's not speaking to women's groups or at conferences, she can be found writing about the things near and dear to women's hearts: family, friends, and chocolate. She lives on a lake in Washington.
Praise For The Snow Globe…
Praise for Sheila Roberts:
"The Snow Globe is an absolutely wonderful holiday treat, full of warmth and charm and second chances.  It's the perfect stocking stuffer." --Kristin Hannah
"Sheila Roberts makes me laugh.  I read her books and come away inspired, hopeful and happy." --Debbie Macomber
"Sheila Roberts is one of my favorite authors. Her stories celebrate every woman's hopes and dreams. Reading her books is like a delightful visit with a treasured friend." --Susan Wiggs
"This lighthearted and charming read will appeal to fans of Kristin Hannah's magical, light romances and readers who enjoyed Roberts's previous holiday offerings." --
Library Journal
(Starred Review)"Just like the antique snow globe in this story, there is no better way to share the holiday spirit than to pass this book on to a girlfriend— or anyone in need of a Christmas miracle." --
Book Page
 "Roberts' charming holiday-themed contemporary story set in the Seattle area offers hope, comfort, and a second chance for those who believe, and a nudge to change the minds of those who don't." --
Booklist
"Sheila Roberts will make you laugh and cry with her latest novel about three women facing life's trials and tribulations." --The National Examiner
"Roberts' witty and effervescently funny novel will warm hearts.  Realistic characters populate the pages of this captivating story, which is a great escape from the hustle and bustle." --Romantic Times (Top Pick)
"The funny novel is all about love …and friendships.  But, most of all, it's about learning to love yourself before you can love anyone else." --The Columbus Dispatch
"Roberts manages to avoid genre clichés and crafts a heartfelt novel with nuggets of life truths." --Binghamton Press & Sun Bulletin
"Hands-down, this has to be the best Christmas book I have read. The characters are so meticulously developed, I had to double check to see if it really was a work of fiction." --J. Kaye's Book Blog