The Land of Blood and Honey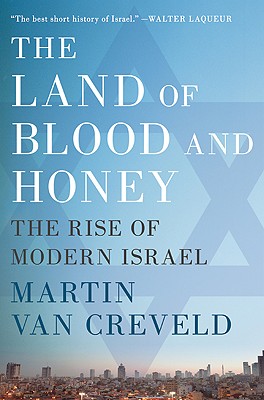 The Land of Blood and Honey
The Rise of Modern Israel
Thomas Dunne Books, Hardcover, 9780312596781, 351pp.
Publication Date: August 3, 2010
* Individual store prices may vary.
Buy at Local Store
Enter your zip code below to purchase from an indie close to you.
or
Not Currently Available for Direct Purchase
Description
"The definitive one-volume history of Israel by its most distinguished historian "
""
""From its Zionist beginnings at the end of the nineteenth century through the past sixty, tumultuous years, the state of Israel has been, as van Creveld argues, "the greatest success story in the entire twentieth century." In this crisp volume, he skillfully relates the improbable story of a nationless people who, given a hot and arid patch of land and coping with every imaginable obstacle, founded a country that is now the envy of surrounding states. While most studies on Israel focus on the political, this encompassing history weaves together the nation's economic, social, cultural and religious narratives while also offering diplomatic solutions to help Israel achieve peace. Without question, this is the best one-volume history of Israel and its people.
About the Author
Martin van Creveld was born in the Netherlands in 1946 and has lived in Israel from 1950. Having studied in Jerusalem and London, since 1971 he has been on the faculty of the History Department, the Hebrew University, Jerusalem. A specialist in military history and strategy, he is the author of 20 books, including "The Land of Blood and Honey" and "Defending Israel", and has appeared regularly on CBS, CNN and the BBC.
Praise For The Land of Blood and Honey…
"A concise and readable history of Israel written by someone who has lived a better part of it."--
Seattle JTNews
"An unapologetic, well-written, and often convincing single volume history of Israel that regards the establishment, survival, and prospering of that nation as a remarkable and admirable achievement…a worthy effort to promote a particular vision of Israel's past and future prospects."—Booklist
"It's no mean feat to sketch the late 19th century rise of Zionism and creation of Israel with economy and compassion, and to deliver an honest appraisal of the country's strengths and weaknesses. That celebrated historian van Creveld (The Culture of War) manages just this, and does so with an easy accessibility, is to be admired....[A] first-rate study."—Publishers Weekly 
"Martin van Creveld, so well known for his military histories, has produced an exemplary political, cultural, and intellectual history of Israel. It is concise without being glib, fair-minded with losing its edge and authoritative personal voice. I read this through in a sitting with great enjoyment and edification."--James Fallows, journalist,
The Atlantic
"Martin Van Creveld uses the widest strokes of history to set up a canvas on which he paints an intriguing picture of modern day Israel. For two decades, I have interviewed Van Creveld to get an 'out of the box' understanding of the Israeli – Palestinian conflict. The Land of Blood and Honey proves that Martin's intimate knowledge of history has never inhibited his penchant for original thought."--Michael Schwartz, CNN correspondent in Israel
"An excellent book that combines an accurate historical perspective, strategic vision, and a most fascinating way of writing."—Ehud Olmert, former prime minister of Israel
"Martin Van Creveld is either the world's leading military historian, or near enough. He has now applied his celebrated skills to the modern history of an entire country, albeit one not lacking in military experiences, to say the least. As an Israeli himself, he is more critical than most non-Israelis would be, given the country's vast achievements. But the Van Creveld virtues are intact: the book illuminates its subject, every paragraph is worth reading, every phrase is well written."—Edward N. Luttwak, veteran military commentator, author of The Grand Strategy of the Byzantine Empire
"The best short history of Israel."—Walter Laqueur, author of The Last Days of Europe