The Pope's Jews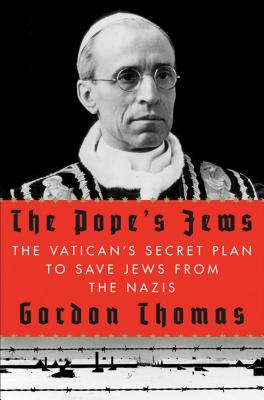 The Pope's Jews
The Vatican's Secret Plan to Save Jews from the Nazis
Thomas Dunne Books, Hardcover, 9780312604219, 314pp.
Publication Date: October 2, 2012
* Individual store prices may vary.
Buy Now
or
Shop Local
Enter your zip code below to purchase from an indie close to you.
Description
This revelatory account of how the Vatican saved thousands of Jews during WWII shows why history must exonerate "Hitler's Pope"
Accused of being "silent" during the Holocaust, Pope Pius XII and the Vatican of World War II are now exonerated in Gordon Thomas's newest investigative work, "The Pope's Jews." Thomas's careful research into new, first-hand accounts reveal an underground network of priests, nuns and citizens that risked their lives daily to protect Roman Jews.
Investigating assassination plots, conspiracies, and secret conversions, Thomas unveils faked documentation, quarantines, and more extraordinary actions taken by Catholics and the Vatican. "The Pope's Jews" finally answers the great moral question of the War: Why did Pope Pius XII refuse to condemn the genocide of Europe's Jews?
About the Author
GORDON THOMAS is a bestselling author of forty books published worldwide, including "The Pope's Jews, Secret Wars", and "Operation Exodus". He has firmly established himself as a leading expert on the often sinister, but always compelling world of secret intelligence.
Praise For The Pope's Jews…
"Many may find fault with the pope's decision to "keep silent" and not single out by name the Nazis or their crimes; however, Thomas is convincing in his revelations about the pope's secret work and relays how complex and sensitive these issues were for everyone involved at the time. Any World War II history buff or Holocaust researcher will find this book an important balance to existing historical scholarship."
—Library Journal on The Pope's Jews

"The reputation of Pius XII, pope from 1939 to 1958, has been subjected to criticism for the pontiff's alleged silence about the Holocaust. The best-known Pius-bashing title is Hitler's Pope, by John Cornwell (1999). In this rebuttal to Cornwell and other critics, Thomas recounts the period of maximum danger for the Vatican during WWII, from September 1943 to June 1944, when German forces occupied Rome, and Hitler sought to kidnap the pope. He also tried to capture the city's Jewish population, an operation that largely fizzled from the Nazi point of view, with most Jews eluding the dragnet (although about 1,200 did not). How the rest were saved is Thomas's main case for Pius, which he makes by narrating activities of local Jewish leaders, Vatican prelates, and German officers. When the SS sprang its trap, thousands of Jews had received shelter in Rome's churches, convents, and the Vatican itself. Suggesting that Pius was responsible for this, Thomas presents an earnest defense while sketching Rome's menacing atmosphere during the Nazi occupation. Pair this title with Ralph McInerney's Defamation of Pius XII (2001)."
—Booklist on The Pope's Jews

"Gordon Thomas's new book The Pope's Jews: The Vatican's secret Plan to Save the Jews from the Nazis, is one of the few books that accurately reflects the truth of the terrible years of the War II based on primary source documented evidence rather than unsupported accusations. He logically assembles the jig saw puzzle of evidence and analyzes it with his personal lifelong wisdom, into an easy to read page turner. Mr. Thomas will be further sustained with the opening of the Vatican Secret Archives. I think this book should one day make a very exciting film."
—Gary Krupp on The Pope's Jews

"[Thomas's] book will ignite a contentious debate about the interpretation of his evidence and Pius's role during the Holocaust."
—Publishers Weekly on The Pope's Jews

"An episodic, fast-paced narrative."
—Kirkus Reviews on The Pope's Jews

"With knowledge cultivated by the serious study of espionage, Gordon Thomas sees through disinformation that has obscured the view of others. With the determination of a great investigator, he provides accounts that were previously unknown, and with the writing skills of a bestselling author, he breathes life into the story of Pope Pius XII and the Jews of World War II.  The Pope's Jews is a riveting account of an immensely important but often misunderstood slice of history."
—Ronald J. Rychlak, author of Hitler, the War, and the Pope and Righteous Gentiles on The Pope's Jews

"A highly readable, and often riveting, book that gives a very good sense not only of the difficulties faced by the Catholics in saving their fellow Jewish Italian citizens but in surviving the daily obstacles of finding food for themselves."
—Dr. Eugene Fisher, a leading Catholic scholar, The Catholic News Service on The Pope's Jews

"In The Pope's Jews Thomas explores the controversy in depth, revealing dramatic new details. Thomas is no ordinary writer: he is one of the most prominent political and investigative journalist of our time. What gives the Pope's Jews such power is its immediacy. The heroes were many – even though now long forgotten – but Thomas' book brilliantly brings them back to life, paying them homage and providing some long-overdue recognition. All Jews and Catholics – and not only them – should read this vitally important book."
—William Doino, contributing editor Inside the Vatican on The Pope's Jews

"Thomas is convincing about the Pope's secret work."
—Social Science on The Pope's Jews

"The Pope during World War II supposedly did little as Europe's Jews were exterminated wholesale. Gordon Thomas sets out to debunk that notion. The Pope's Jews show how Pius oversaw a covert network of priests, nuns and Roman citizens who forged documents and smuggled Jewish refugees to Switzerland, the United States and Palestine while Vatican infirmaries became hiding places. The Pope was considered such a threat that Nazi officials hatched a plot to kidnap him. All the while he had to keep the Germans from finding out about the secret operations that saved hundreds of lives."
—The Washington Post on The Pope's Jews

"The Pope's Jews  offers an extraordinary well-researched account as well as a magnificent portrait of the refugees, the residents of Rome's ghetto and Rome's Catholic community. In doing so Thomas has provided a most welcome addition to the fight to preserve Pius' good name. This book follows the timeline of events as they actually occur: headline making events as the Ardeatine massacre , Hitler's demand for gold, the bombing of Rome by Allied planes and the battle for Rome. To his credit the author lists his sources. In Thomas' The Pope's Jews there is little reason to expect the opening of the archives will alter the end results that the Catholic Church under Pope Pius' leadership, rescued more Jews than any other institution or government."
—Bill Loughlin, The National Catholic Register on The Pope's Jews

"Thomas' riveting narrative relates the wartime decision in regard to the Jews made by Pope Pius XII. He cites the Pope's orders to open convent and monastery doors to harbour Jews, issuing Vatican passports that allowed thousands of German Jews to leave Nazi Germany. As Thomas notes "the wartime files will fully end the controversy about 'Hitler's Pope' and silence the argument that he is not worthy to become a saint of the Roman Catholic Church."
—Jack Fischel, The Jewish Book Council of America on The Pope's Jews

"Literally impossible to put down."
—The New York Times on Gideon's Spies

"Tells it like it was—and like it is."
—Meir Amit, former Director General of Mossad on Gideon's Spies "A compelling read, with any number of disturbing revelations."
—FHM on Gideon's Spies "Authoritative history of Britain's spy services by a veteran who has been writing about "the Great Game" for fifty years [and a] well-written page-turner that demystifies the notoriously foggy "wilderness of mirrors."
—Kirkus Reviews on Secret Wars "A fine depiction of the multifaceted context of this cause célèbre."
—Kirkus Reviews on Operation Exodus