The Demon's Parchment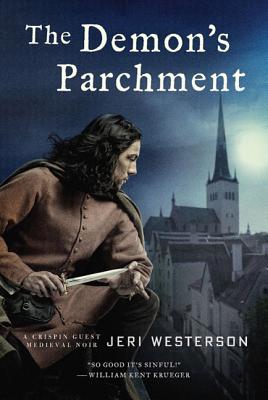 The Demon's Parchment
A Medieval Noir
Minotaur Books, Paperback, 9780312609269, 307pp.
Publication Date: September 27, 2011
* Individual store prices may vary.
Buy Now
or
Shop Local
Enter your zip code below to purchase from an indie close to you.
Description
In fourteenth century London, Crispin Guest is a disgraced knight convicted of treason and stripped of his land, title and his honor. He has become known as the "Tracker" a man who can find anything, can solve any puzzle and, with the help of his apprentice, Jack Tucker, an orphaned street urchin with a thief 's touch will do so for a price. But this time, even Crispin is wary of taking on his most recent client. Jacob of Provencal is a Jewish physician at the King's court, even though all Jews were expelled from England nearly a century before. Jacob wants Crispin to find stolen parchments that might be behind the recent, ongoing, gruesome murders of young boys, parchments that someone might have used to bring forth a demon which now stalks the streets and alleys of London.
About the Author
Jeri Westerson was born and raised in Los Angeles. As well as seven previous Crispin Guest medieval mysteries, she is the author of a paranormal urban fantasy series and several historical novels. Her books have been nominated for the Shamus, Macavity and Agatha awards.
Praise For The Demon's Parchment…
"This superb series isn't kidding when it describes itself as medieval noir.... The writing is wonderful and the history vividly presented. Not to be missed by fans of real historical mysteries."
--RT Book Reviews (Top Pick!)
"Westerson skillfully lulls her sleuth and the reader into a sense of 'I know what is going on,' then zings them with the truth. Absolutely first-class; highly recommended."
--Library Journal
"A solid plot and cast of characters, a feel for the story's place and time (fourteenth-century England), and an appealing noirish air. A welcome addition to the medieval-mystery landscape."
--Booklist
"Westerson's third 14th-century historical featuring disgraced knight Crispin Guest ... is the best yet."
--Publishers Weekly
"Information on 14th-century anti-Semitism and homosexuality are highlights of Crispin's third adventure, based on a real 15th-century crime spree."
--Kirkus Reviews