Franklin and Eleanor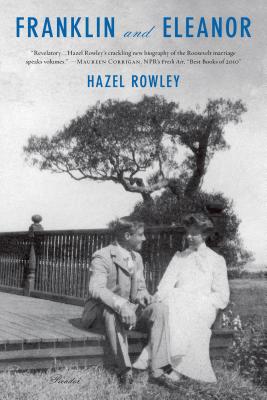 Franklin and Eleanor
An Extraordinary Marriage
Picador USA, Paperback, 9780312610630, 345pp.
Publication Date: September 27, 2011
* Individual store prices may vary.
Buy Now
or
Shop Local
Enter your zip code below to purchase from an indie close to you.
Description
A "Los Angeles Times" Bestseller
In this groundbreaking account of the marriage, critically acclaimed biographer Hazel Rowley describes the remarkable courage and lack of convention---private and public---that kept FDR and Eleanor together. She reveals a partnership that was both supportive and daring. Most of all, she depicts an extraordinary evolution---from conventional Victorian marriage to the bold and radical partnership that has made Franklin and Eleanor Roosevelt go down in history as one of the most inspiring and fascinating couples of all time.
About the Author
Hazel Rowley is the author of two previous books: Christina Stead: A Biography and Richard Wright: The Life And Times. She has been a Rockefeller Foundation Fellow and a Bunting Institute Fellow at Radcliffe College, and has taught at the University of Iowa and at Deakin University in Melbourne, Australia. She lives in New York and Paris.
Praise For Franklin and Eleanor…
"This fascinating study of the Roosevelt marriage provides an inside look at a complicated relationship…Rowley is excellent setting in motion the competitions, jealousies, and rivalries among those vying for the president's affection and attention. She accomplishes this while also charting the political progress of two heroic public servants, Franklin and Eleanor." —Barbara Fisher, The Boston Globe "A crackling new biography. . .What distinguishes Rowley's chronicle is her focus on the evolution of the Roosevelt marriage from a standard-issue high-society alliance of its day to a ... what? We don't even have a term for such an unconventional relationship. . . A revelatory biography of a marriage." —Maureen Corrigan, "Favorite Books of 2010," National Public Radio


"A sensitive, hugely compelling portrait." —Vogue's "Best Biography of 2010"

"Any lover of popular history and unorthodox relationships (juicy bits included) will adore this engaging biography." —Slate

"Compelling history with first-rate character portraits of the Roosevelts and their closest friends." —Terry Hartle, The Christian Science Monitor

"[An] enticing new biography. [Rowley's] research, both meticulous and extensive, does not bloat the book into a doorstop. Franklin and Eleanor is less about history than about relationships, and it reads like a wonderful novel at times, giving us a vision of what parts of American life were like then." —Carolyn See, The Washington Post

"That Franklin and Eleanor Roosevelt formed a splendid partnership is not news. But Hazel Rowley, author of acclaimed biogrpahies of Christina Stead, Richard Wright, and Jean Paul Sartre and Simone de Beauvoir, dramatizes in intimate detail just how close the connection between husband and wife became...Franklin Roosevelt and Eleanor Roosevelt, upper New York State aristocrats, became more attuned to the lives of the American people than any other presidential couple—not a claim Rowley makes, but one that becomes evident in reading her magnificent biography." —Carl Rollyson, The Star Tribune

"While numerous books have been written about the FDR presidency, this is a fresh look at what Rowley calls a 'bold and radical partnership'. . .She brings vividly to life one of the great marriages in history." —Elizabeth Bennett, Bookish

"Without resort to sensationalism, the author turns a familiar story into a page-turner." —William D. Pederson, Library Journal

"Hazel Rowley has gone beyond the gossip and gives us a book of real insight and a tale that is as sympathetic as it is cautionary. I will go so far as to say that if you are going to read only one book about this extraordinary couple, this is the one." —James Srodes, The Washington Times

"Here is the most consequential love story of the twentieth century, told with verve, swift narrative drive, and clear-eyed fondness for the lovers. 'Clear-eyed' because Eleanor and Franklin Roosevelt's marriage was as difficult as it was momentous: How many husbands have ever had to suffer being nagged about the fate of Yugoslavia? How many wives have had to endure the deflections and evasions of a dissimulator as artful as FDR? Hazel Rowley tells a tale as full of betrayals as it is of a fundamental fidelity, while detailing a partnership so powerful that it has shaped the lives of all of us who read about it today." —Richard Snow, former editor of American Heritage and author of A Measureless Peril

"A distinguished biographer's fresh take on the marriage of the Roosevelts, the most dynamic couple ever to occupy the White House . . . A focused account of a complex marriage that continues to fascinate." —Kirkus Reviews

"Franklin and Eleanor is a fascinating read, rich with insight and detail. Here is a political marriage that rose above politics; a partnership that was driven as much by idealism as by ambition; and a friendship that survived despite all. Hazel Rowley is a wonderful writer with a gift—rare among historians—for entertaining her readers." —Amanda Foreman, Georgiana: Duchess of Devonshire

"Theirs was one of the great marriages in history, one that reshaped the lives of millions in their own time and beyond. In Hazel Rowley's engaging new book, Eleanor and Franklin Roosevelt come alive anew in all their complexity, humanity, and greatness." —Jon Meacham, Pulitzer Prize–winning author of Franklin and Winston: An Intimate Portrait of an Epic Friendship