The True Memoirs of Little K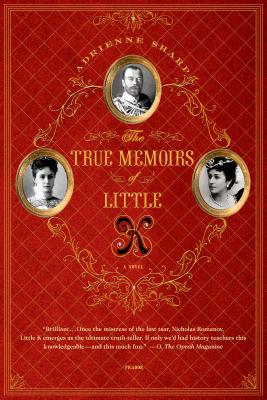 The True Memoirs of Little K
Picador USA, Paperback, 9780312610715, 378pp.
Publication Date: October 25, 2011
* Individual store prices may vary.
Buy at Local Store
Enter your zip code below to purchase from an indie close to you.
or
Buy Here
Description
A California Book Award Finalist
One of Oprah's Book Club's Ten Fantastic Books for Fall 2010
Historical Novel Review Editors' Choice
Exiled in Paris, the frail, elderly Mathilde Kschessinska sits down to write her memoirs. A lifetime ago, she was the vain, ambitious, impossibly charming prima ballerina assoluta of the tsar's Russian Imperial Ballet in St. Petersburg. Kschessinska's riveting storytelling soon thrusts us into a world lost to time: that great intersection of the Russian court and the Russian theater. Through Kschessinska's memories of her own triumphs and defeats, we witness the stories that changed history, from the seething beginnings of revolution to the end of a grand, decadent way of life that belonged to the nineteenth century. Based on fact, The True Memoirs of Little K is "an engrossing tale of love, loss, and history" (The Wichita Eagle).
About the Author
Adrienne Sharp entered the world of ballet at age seven and trained at the prestigious Harkness Ballet in New York. She received her M.A. with honors from the Writing Seminars at the Johns Hopkins University and was awarded a Henry Hoyns Fellowship at the University of Virginia. She has been a fiction fellow at MacDowell, the Virginia Center for the Creative Arts, and the Squaw Valley Writer's Conference. She is the author of White Swan, Black Swan and The Sleeping Beauty.
Praise For The True Memoirs of Little K…
Praise for The True Memoirs of Little K

"I tore through this delectable book like a box of elegantly crafted chocolates. Even now, I keep riffling through the crumpled gold wrappers, wishing there were more. A fascinating, carefully researched, and intricately rendered portrait of the last tsar and his clever, talented, and wildly ambitious mistress, the prima ballerina assoluta Mathilde Kschessinska. Bravo, Little K." —Janet Fitch, author of White Oleander and Paint It Black

"This novel is a rare and rich pleasure, full of exquisite details of the Russian imperial court, of ballet, of diamonds, of intricate love affairs backstage in theaters and palaces in a vanished world." —Simon Sebag Montefiore, author of Young Stalin and Sashenka

"Mistress of grand dukes and of Russia's last tsar, Mathilde Kschessinska was the fabled prima ballerina assoluta of St. Petersburg's Imperial Ballet during the empire's last decades. In The True Memoirs of Little K, Adrienne Sharp reveals the passion, greed, and lust for life behind the fairy tale of the ballerina's real memoirs, and the secret about her son's paternity that it's easy to believe just might be true." —Lynn Garafola, author of Diaghilev's Ballets Russes
"Brilliant. . . Little K (as Nicholas supposedly called her) is the most unreliable of narrators about affairs of her own heart. But when reporting on a time, place, and disappearing way of life, especially with her sumptuous often loving descriptions of Russian dance and culture, she emerges as the ultimate truth-teller. If only we'd had history teachers this knowledgeable—and this much fun." —Sara Nelson,
O: The Oprah Magazine
 "Sit back and be told a story, the rich and fantastic memoirs of 99-year-old Mathilde Kschessinska, ballerina with the Russian Imperial Ballet, mistress to tsars and grand dukes . . . It's a love story, a triumph of will, set in a Chekhovian landscape. Perfect holiday reading. The artist ends (like Akhmatova and countless others) an enemy of the state, banished from history. She tells her story in an almost magical way—the reader dissolves into another time and place." —Susan Salter Reynolds,
Los Angeles Times
 "[Adrienne Sharp]  has channeled the spirit of Little K, who did indeed live until December 1971. She has brilliantly captured the last years in the doomed world of Imperial Russia. Tsarist society invited its fate. Read these pages and shiver, but not from the cold." —Ben Martin,
The Advocate
(Baton Rouge) "[
The True Memoirs of Little K
] is rich with historical detail, describing the decadent excesses of the Russian nobility, the intrigue of the theater, and the paralysis of Russia's rulers in their waning days of power. Sharp sweeps us into another place and time, blending fact and fiction into an engrossing tale of love, loss and history." —Lisa McLendon,
The Wichita Eagle
 "Adrienne Sharp has taken equal parts truth (Kschessinska was indeed a prima ballerina assoluta of the Imperial Ballet) and conjecture (the paternity of her son was never established), and put spinning at the center of her story a charming, willful, and, at times, unreliable narrator. Mala's memoir fascinates. . . . . Yes, there is more than a little bit of Scarlett O'Hara in our heroine! There is a little Ashley in Czar Nicholas II, too. And one of her lovers might do for Rhett Butler. Like Scarlett, Little K realizes too late whom she loves." —Jo Gibson,
The Plain Dealer
(Cleveland) "With beautifully detailed, often conversational, language, Sharp, describes a lost world, pre-revolution Saint Petersburg."  —
Christian Science Monitor
 "Adrienne Sharp sets her novel,
The True Memoirs of Little K
, in turn-of-the-20th-century St. Petersburg, where a Russian prima ballerina becomes mistress to the aristocrat who will be Czar Nicholas II. Backstage drama, court intrigue, and political revolution drive Sharp's sweeping tale." —
National Geographic Traveler
 "Sharp brings the last days of the Romanov empire to fascinating, sexy light through the eyes of Mathilde ('Little K'). . . We all need a little reminder that our elders' stories are worth listening to (though they may not all be quite so juicy, of course)." —
Marie Claire
 "Sharp artfully evokes the extravagantly decadent twilight of Tsarist Russia in this dazzling fictional memoir . . . Secrets, scandals, and suspense steeped in authentic period detail provide a sumptuous feast for historical-fiction fans." —Margaret Flanagan, Booklist "Sharp impressively conjures the grand life of Mathilde Kschessinka, Russian prima ballerina and mistress of Czar Nicholas II, in her sweeping third novel . . . [Little K's] story is an unrelenting thrill ride and chockfull of the stuff that historical fiction buffs adore: larger than life characters, epic change, grand settings, and lusty plotting." —
Publishers Weekly
 "The author's knowledge of the ballet and her lush, descriptive writing give depth and resonance to this imagined history." —
Kirkus Reviews
Praise for
The Sleeping Beauty


"Compulsively readable . . . [An] undeniably juicy portrayal of offstage life during the 'ballet boom' . . . The plot zips along on Sharp's lyrical writing style, and emotionality rises like steam off the page." —Rachel Howard,
San Francisco Chronicle


"Harrowing in its on- and off-stage depictions of desire and disappointment, rendered with writing that is hauntingly lyrical . . . Sharp brings to life the beauty, magic and all-consuming passion of the professional dance world." —Lea Aschkenas,
Los Angeles Times


Praise for
White Swan, Black Swan


"Compels us to consider the troubled hearts and souls inside the agile bodies that astonish us with their ability to defy gravity and to exceed our wildest dreams of what the body can do." —Francine Prose,
O, The Oprah Magazine