Slayers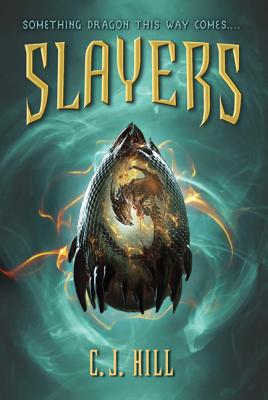 Slayers
Feiwel & Friends, Hardcover, 9780312614140, 373pp.
Publication Date: September 27, 2011
* Individual store prices may vary.
Buy at Local Store
Enter your zip code below to purchase from an indie close to you.
or
Buy Here
Description
Dragons exist. They're ferocious. And they're smart: Before they were killed off by slayer-knights, they rendered a select group of eggs dormant, so their offspring would survive. Only a handful of people know about this, let alone believe it these "Slayers" are descended from the original knights, and are now a diverse group of teens that includes Tori, a smart but spoiled senator's daughter who didn't sign up to save the world.
The dragon eggs have fallen into the wrong hands. The Slayers must work together to stop the eggs from hatching. They will fight; they will fall in love. But will they survive?
About the Author
C. J. Hill is the mother of twins. They aren't identical, but this doesn't mean she always calls them by the right name. In fact, she occasionally calls all her children by the wrong names (she has five) and has even been known to throw the dog's name into the mix. Laugh now, but you'll do the same thing when you have kids.
If C. J. had a time machine and could visit another century, she would probably go to the Regency era instead of the future. According to all the novels she's read, the past was filled with a multitude of dashing lords and viscounts who were always on the lookout for damsels in distress, whereas the future is populated by scary dystopian societies.
Praise For Slayers…
"Part urban fantasy, part superhero tale, this adventure is full of action, drama, and humor, with just a touch of romance." --Publishers Weekly Online "This promising new series may feature dragons and a reeducation camp for contemporary youths who have mythological roots, but the character development, plotting, and ethical quandaries make this more than a worthy equal of the works of Rick Riordan or Christopher Paolini." --Booklist