Gypsy Boy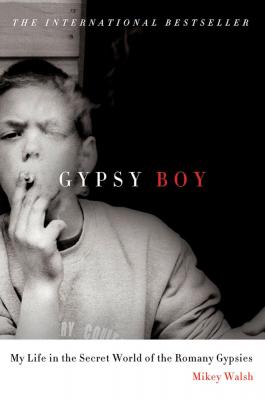 Gypsy Boy
My Life in the Secret World of the Romany Gypsies
Thomas Dunne Books, Hardcover, 9780312622084, 278pp.
Publication Date: February 14, 2012
* Individual store prices may vary.
Buy at Local Store
Enter your zip code below to purchase from an indie close to you.
or
Not Currently Available for Direct Purchase
Description
An Eye-Opening Memoir of Growing Up Gypsy
Mikey Walsh was born into a Romany Gypsy family. They live in a secluded community, and little is known about their way of life. After centuries of persecution, Gypsies are wary of outsiders, and if you choose to leave you can never come back.
This is something Mikey knows only too well.
Growing up, he didn't go to school, he seldom mixed with non-Gypsies, and the caravan became his world. It was a rich and unusual upbringing, but although Mikey inherited a vibrant and loyal culture his family's legacy was bittersweet, with a hidden history of violence and grief. Eventually Mikey was forced to make an agonizing decision to stay and keep secrets, or escape and find somewhere to belong.
"Gypsy Boy "shows, for the first time, what life is really like among the Romany Gypsies. A surprise #1 bestseller in Great Britain, this is a one-of-a-kind memoir of a little-seen world, one both fascinating and heartbreaking.
About the Author
Mikey Walsh left the Gypsy community and moved to London. It is the longest he's ever stayed in one place. He taught himself to read and write and now works at a primary school, where he works as a teaching aid, and also picks up the formal education he missed out on as a child.
Praise For Gypsy Boy…
"Brash and frightening and funny — tonally, think of Frank McCourt meeting Axl Rose."--The New York Times

"In this violent yet often comic memoir, Walsh writes of life as an English Gypsy.... Gypsy Boy feels, in all its cocky, awkward affection and anguish, like the real deal."--The Boston Globe

"A poignant memoir that bears comparison to the bestselling Running With Scissors—but better written and far darker."--Kirkus Reviews

"The earthy, violent, funny memoir of a gypsy boy in England. It's absolutely riveting, un-put-downable."--Anne Lamott, The Miami Herald

"He's an irresistible guide through this secret world, and the tour is strongly recommended."--The New York Times Book Review

"This book is the extraordinary story of how a young man found his way in the secretive and illusive world of Romany Gypsies. ... Written with insight and a powerful and at times shocking narrative, this is an incredible book about a young man's courage and his pride in his family and culture."--Tucson Citizen

"Absolutely can't be missed. If you're up for a funny, brutal, sharp memoir, this is the book you want."--Long Island Pulse Magazine

"His story is shocking, eye-opening, but finally triumphant. And remarkable."--Hudson Valley News

"Gypsy Boy tells the poignant story of a boy living in an unusual and secretive environment of shoplifting, boxing, and virtual illiteracy, a boy who desperately wants to please his abusive father but all the while grapples with his own clandestine issues. This extraordinary memoir about resilience and the human spirit is a rare glimpse into a world few of us can imagine."--The Advocate

"Absolutely can't be missed. If you're up for a funny, brutal, sharp memoir, this is the book you want."--The Washington Blade

"A sobering and compelling portrait of Gypsy life that is written by an insider."--The National

"Harrowing ... exposes disturbing connections between culture and abuse."--The Washington Post

"An inside look at the Gypsy world through the eyes of a Gypsy.... Read this book, and you'll never look at, or think of, a Gypsy in the same way."--The Washington Times

"This stunning childhood memoir takes readers into the insular culture of Romany Gypsies. … It is astounding that Walsh survived such brutality, without emotional support or formal education, to pen this unflinching but oddly generous memoir, demonstrating a respectful attitude toward Romany culture and affection toward his family."--Library Journal

"This is a wonderfully readable tale of love, abuse, and eventual escape--all lived in the heart of an English Gypsy family.  The father is one of the most frightening figures I've encountered in years."--Edmund White, author of A Boy's Own Story

"Reading Gypsy Boy, I felt invited into a secret society. I've always found Gypsies mysterious and even slightly dangerous, and Mikey Walsh does an excellent job describing the cloistered lifestyle and fascinating traditions of the Romany people. Moreover, Mikey's personal story of being a misfit among misfits is both compelling and universal. I cheered for him every step of the way."--Julia Scheeres, author of Jesus Land

"A revelation. Moving, terrifying, funny and brilliant. I shall never forget it—an amazing achievement."--Stephen Fry

"Touching, insightful, funny, and incredibly shocking."--Heat magazine (UK)

"Best memoir since Running with Scissors."--Attitude

"Gypsy Boy sits somewhere between the grittiness of Irvine Welsh and the charming warmth of Frank
McCourt."--Dermot O'Leary, television and radio presenter, The X Factor

"Mikey Walsh provides an unsentimental and compelling look at the louche and brutal culture of Romany Gypsies in the U.K. ... Walsh analyzes the grotesqueries of Gypsy life in painful detail--garish trailers, stifling family ties, crime and crudeness, and the constricted options for women who are considered old maids at 21. Yet despite his gruesome experiences, he also praises the fierce loyalty and cultural continuity that have allowed Gypsies to maintain their dignity in the face of hatred for centuries."--Publishers Weekly

"A gripping and heartfelt page-turner."--Booklist (starred review)

"From family violence to the horrors of cockfighting, from stealing bikes from the local sports center to squeezing juice out of slugs as a remedy for warts, Mikey makes the gaudy world of Romany Gypsies in the U.K. erupt into life, interspersing these scenes with moments of tenderness and goofy comedy."--Shelf Awareness 

"Fantastic."--Bookpage