Swift Edge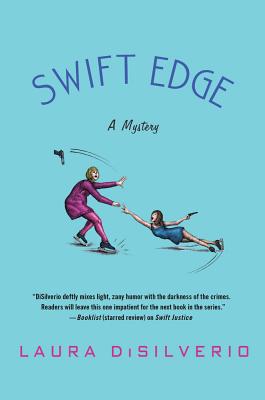 Swift Edge
A Mystery
Minotaur Books, Hardcover, 9780312624446, 304pp.
Publication Date: November 22, 2011
* Individual store prices may vary.
Shop Local
Enter your zip code below to find indies closest to you.
Description
When world-class figure skater Dmitri Fane goes missing, his partner knows just whom to hire. It's up to Swift Investigations to find the missing Fane, and fast---the Olympics are just weeks away. It should be no trouble for the investigative team of Charlie Swift and Gigi Goldman: Their chief obstacle is Gigi's teenage daughter, Kendall, and her mad crush on Fane. That is, until the skating team's coach is brutally attacked and a colleague of Dmitri is killed, and things start to get complicated. 
Gigi's corralling a lovesick Kendall and dying to test out the hilarious techniques from her surveillance class. Charlie's dodging bullets and fending off Detective Connor Montgomery's advances. Their client is suddenly MIA. Can Charlie and Gigi solve two missing-persons cases and a murder at once, or will the culprit get off skate-free?
Fast-paced adventure, high-stakes intrigue, and the madcap capers of these unlikely partners-in-crime solving make Swift Edge a delightful and welcome addition to the series. 
About the Author
Laura DiSilverio's novel Swift Run was nominated as a finalist in the 2013 Colorado Book Awards. She has received starred reviews from Booklist, and Suspense Magazine named Die Buying as one of the top mysteries of 2011. Laura is a past-president of Sisters in Crime. She lives in Colorado Springs, Colorado, and can be found online at www.LauraDiSilverio.com.
Praise For Swift Edge…
"Charlie and Gigi are both wonderful characters, flawed but appealing. This well-crafted, zany mystery will appeal, especially, to fans of Janet Evanovich, Laura Levine, and Lisa Lutz, whose work displays the same kind of humor."--Booklist
"DiSilverio has a bit of Sue Grafton's tone about her, with a dash of Janet Evanovich thrown in, thanks to Charlie's always unpredictable partner, Gigi. Expect to laugh...with this enjoyable read."--
Library Journal
 "In DiSilverio's amusing second mystery...Allgood and CSPD Det. Connor Montgomery provide romantic frissons for Charlie as she juggles the two complex and dangerous cases with aplomb. Readers will look forward to seeing more of Charlie and her two clueless assistants."--
Publishers Weekly
 "
Swift Edge
 is a light-hearted mystery that is fun and funny, peppered with great characters, and totally un-put-downable."--Fresh Fiction 
"DiSilverio's sequel to her highly praised debut novel, 'Swift Justice,' is ideal for those who enjoy humorous mysteries. Fans of Janet Evanovich will be easily hooked and impressed; the adventures of the Swift Investigation team are highly entertaining but not quite as goofy."--Lansing State Journal
In DiSilverio's amusing second mystery featuring Colorado Springs PI Charlotte "Charlie" Swift (after 2010's Swift Justice), Dara Peterson, half of the championship ice skating team of Peterson and Dmitri Fane, wants to hire Charlie to find Dmitri, who's gone missing just days before the U.S. Figure Skating Championships. Dmitri turns out to have lots of baggage, including a gambling problem, an imperious Russian skating coach, and bitter rivals. Charlie's untrained partner in Swift Investigations, Georgia "Gigi" Goldman, and Gigi's 15-year-old daughter, Kendall, the agency's part-time receptionist, prove as much hindrance as help. Meanwhile, Episcopal priest Dan Allgood asks Charlie to locate a runaway Asian kid called Kungfu, who's disappeared from the homeless shelter Allgood runs. Allgood and CSPD Det. Connor Montgomery provide romantic frissons for Charlie as she juggles the two complex and dangerous cases with aplomb. Readers will look forward to seeing more of Charlie and her tw