99 Drams of Whiskey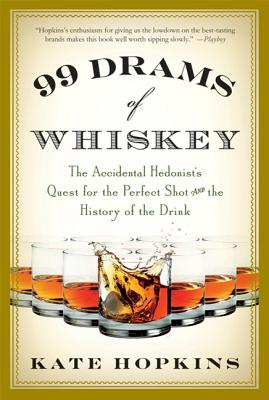 99 Drams of Whiskey
The Accidental Hedonist's Quest for the Perfect Shot and the History of the Drink
Griffin, Paperback, 9780312638320, 308pp.
Publication Date: July 6, 2010
* Individual store prices may vary.
Buy at Local Store
Enter your zip code below to purchase from an indie close to you.
or
Buy Here
Description
Kate Hopkins knew there had to be more to whiskey than using it as a mixer. She had an unquenchable thirst to learn more about "the drink" and set out on an ambitious itinerary researching its history. Combining comprehensive research with informal narrative, Hopkins entertains and educates the readers on whiskey's place in the history of the world. She visited historians and pub owners, went to distilleries owned by corporations who sell thousands of gallons per day, and artisans who sell thousands of gallons per year, and interviewed the aficionados and the common drinkers, because one of the best aspects of whiskey is not just its taste, but the stories about the drink that are told around the bar. As an added bonus, she discusses the fine art of distilling, the proper ways to drink whiskey, and provides tasting notes on different brands, all in the hope of discovering the best shot of the liquor.
About the Author
Ex-stand-up comedian Kate Hopkins's food blog, The Accidental Hedonist, has been named one of Time magazine's 50 Coolest Websites. She lives in Seattle, Washington, and is currently working on a book about candy.
Praise For 99 Drams of Whiskey…
"Hopkins's enthusiasm for giving us the lowdown on the best-tasting brands makes this book well worth sipping slowly." —Playboy
"Hopkins is an entertaining storyteller, which works in a book dedicated to a storied beverage." —Portland Mercury
 "One of the best whisky books of the year." —WhiskyCast
"99 Drams of Whiskey is part travelogue, part distillery guide, and part history book. It is deeply personal, and told in Kate Hopkins's humorous, engaging, and inimitable style. Through Kate's eyes, I found myself looking at whiskey anew."--Kevin Erskine, author of The Instant Expert's Guide to Single Malt Scotch
"There is so much hype surrounding beverage alcohol products that a writer's best tool may be his or her BS detector. Kate Hopkins has a good one, but she never lets debunking make her cranky. She is open-minded without being a sucker. 99 Drams is an unexpected and fresh take on whiskey."--Charles K. Cowdery, author of Bourbon, Straight
"How can you not want to follow Kate Hopkins on a rollicking adventure that makes it perfectly acceptable to drink whiskey before noon?  Her personal narrative remains lively and humorous throughout, with an excellent balance between storytelling, history, and facts.  In my mind, her 'perfect shot' occurs in a mysterious gift shop in Scottish farm country, from an unmarked bottle filled with an unknown whiskey.  This kind of experience and others like it make 99 Drams of Whiskey a great read."--Peter Krass, author of Blood & Whiskey: The Life and Times of Jack Daniel