Lucky Stuff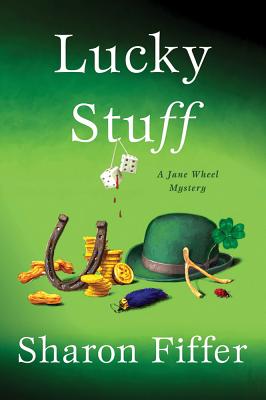 Lucky Stuff
Minotaur Books, Hardcover, 9780312643034, 306pp.
Publication Date: September 18, 2012
* Individual store prices may vary.
Buy Now
or
Shop Local
Enter your zip code below to purchase from an indie close to you.
Description
Officially divorced, antiques picker and private investigator Jane Wheel finally faces the reality that she needs to sell her house, which means clearing out her extensive and beloved antique collection. While it's a daunting task, the preemptive move proves worthwhile when her house sells in one day. Finding herself suddenly homeless, Jane heads to her hometown, Kankakee, Illinois, to find that it, too, has been turned upside down.
Lucky Miller, a little-known comedian, is staging what he calls a comeback. It's all part of his plan to break into showbiz by making it seem like he's always been a big name. Suspicious of what Lucky's trying to prove and why he's chosen to prove it in Kankakee, Jane's mother, Nellie, hires Jane to investigate. But why does Nellie care? Lucky would sure like to know, so he, too, calls on Jane to find out. Still, Nellie may be the least of his problems when a driver on his crew turns up dead hours after claiming that Lucky tried to kill him.
With the charming and dogged Jane Wheel at the center of another clever puzzle, "Lucky Stuff" is an outstanding addition to Sharon Fiffer's popular series.
About the Author
Sharon Fiffer collects buttons, Bakelite, pottery, vintage potholders, keys, locks, and more dead guy's stuff. The author of the Jane Wheel mysteries, including "Killer Stuff" and "The Wrong Stuff", Sharon Fiffer has also co-edited the anthologies "Home: " "American Writers Remember Rooms of Their Own", "Body", and "Family: American Writers Remember Their Own" and written "Imagining America".
Praise For Lucky Stuff…
Praise for Backstage Stuff

"A murder mystery that deserves a standing-O by final curtain. . .This is Fiffer's "lucky number seven" Jane Wheel novel, one that already stands as a top pick for this New Year's mysteries."
—Yahoo Shine

"As usual in this entertaining series, information on antiques and collectibles is intertwined with the mystery, and this time the dynamics of running a community theater are also in the mix."
—Booklist

"[A] light and enjoyable cozy series."
—Publishers Weekly

Praise for Scary Stuff

"Details about the antiques trade are woven throughout the story, adding to the appeal for series fans, who will be intrigued to learn that Jane's life will have to weather some big changes in subsequent episodes."
—Booklist

"Spooky. . .Chilling climax. Fiffer supplies just enough background to ease new readers into the series."
—Publishers Weekly