Heretic Queen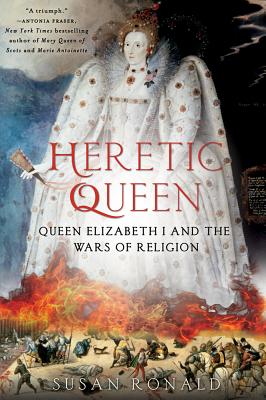 Heretic Queen
Queen Elizabeth I and the Wars of Religion
St. Martin's Press, Hardcover, 9780312645380, 350pp.
Publication Date: August 7, 2012
* Individual store prices may vary.
Buy at Local Store
Enter your zip code below to purchase from an indie close to you.
or
Not Currently Available for Direct Purchase
Description
Acclaimed biographer Susan Ronald delivers a stunning account of Elizabeth I that focuses on her role in the Wars on Religion the battle between Protestantism and Catholicisim that tore apart Europe in the 16th Century

Elizabeth's 1558 coronation procession was met with an extravagant outpouring of love. Only twenty-five years old, the young queen saw herself as their Protestant savior, aiming to provide the nation with new hope, prosperity, and independence from the foreign influence that had plagued her sister Mary's reign. Given the scars of the Reformation, Elizabeth would need all of the powers of diplomacy and tact she could summon.
Extravagant, witty, and hot-tempered, Elizabeth was the ultimate tyrant. Yet at the outset, in religious matters, she was unfathomably tolerant for her day. "There is only one Christ, Jesus, one faith," Elizabeth once proclaimed. "All else is a dispute over trifles." "Heretic Queen "is the highly personal, untold story of how Queen Elizabeth I secured the future of England as a world power. Susan Ronald paints the queen as a complex character whose apparent indecision was really a political tool that she wielded with great aplomb.
About the Author
Susan Ronald, author of The Sancy Blood Diamond, has consulted for five British government departments and The National Trust. Born and raised in the United States, she has lived in England for more than twenty years.