Shimmer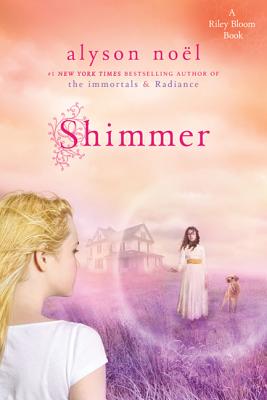 Shimmer
Square Fish, Paperback, 9780312648251, 196pp.
Publication Date: March 15, 2011
* Individual store prices may vary.
Buy at Local Store
Enter your zip code below to purchase from an indie close to you.
or
Buy Here
Description
Having solved the matter of the Radiant Boy, Riley, Buttercup, and Bodhi are enjoying a well-deserved vacation. When Riley comes across a vicious black dog, against Bodhi's advice, she decides to cross him over. While following the dog, she runs into a young ghost named Rebecca. Despite Rebecca's sweet appearance, Riley soon learns she's not at all what she seems. As the daughter of a former plantation owner, she is furious about being murdered during a slave revolt in 1733. Mired in her own anger, Rebecca is lashing out by keeping the ghosts who died along with her trapped in their worst memories. Can Riley help Rebecca forgive and forget without losing herself to her own nightmarish memories? Find out in "Shimmer," the second book in the Riley Bloom series from bestselling author Alyson Noel.
About the Author
Alyson Noel es la galardonada autora best seller numero uno del New York Times de Faking 19, Art Geeks and Prom Queens, Laguna Cove, Llevame a la luna, Kiss & Blog, Saving Zoe, Cruel Summer, Forever Summer, Keeping Secrets, la serie The Immortals incluyendo: Eternidad, Luna azul, Tinieblas, Llama oscura, Desafio y Destino, la serie derivada de The Immortals, Riley Bloom incluyendo Radiance, Shimmer, Dreamland y Whisper), con historias breves que aparecen en las antologias: First Kiss (Then Tell), Kisses From Hell, & Dear Bully. Autora de una serie para jovenes, La cazadora de almas incluyendo Fated & Echo y Mystic, & Horizon. Con mas de ocho best sellers del New York Times en dos anos, y mas de 7 millones de ejemplares a la venta, sus libros han sido traducidos a 37 idiomas, se han vendido en mas de 50 paises, y han llegado a las listas del New York Times, USA Today, Publishers Weekly, Wall Street Journal, LA Times, NCIBA, Walmart, y numerosas listas internacionales de best sellers. Y han obtenido numerosos premios, como: National Reader's Choice Award, NYLA Book of Winter Award, NYPL Stuff for the Teenage, TeenReads Best Books of 2007, Reviewer's Choice 2007 Top Ten, han aparecido en el segmento -Give the Gift of Reading- del programa matutino de CBS, y se han incluido en -lista de exitos- de la revista Seventeen y Beach Book Club Pick. Nacida y criada en el condado de Orange, California, ha vivido en Mykonos y en Manhattan, y actualmente se ha establecido en el sur de California, donde esta trabajando en su siguiente libro.
Praise For Shimmer…
"Bestselling author Alyson Noël gives fans the second book in her fascinating series about Riley Bloom and her life after death. The character of Riley brings a lot of energy to the story, and her clumsy but heartfelt attempts to do what's right are endearing and contagious." —KidsReads.com
"Understanding and enjoying this book does not hinge on having read Radiance (Square Fish, 2010), but readers will be quickly drawn to Riley and want to learn more about this spunky character and her previous experiences. The author's sharp contemporary wit in concert with her fascinating fantasy setting and important historical connections will draw readers through this enjoyable novel and have them begging for Riley's third adventure." —School Library Journal
"Noël ably captures the cadence of tweenspeak in this lively, action-packed adventure." —Booklist