The Girl Who Fell Beneath Fairyland and Led the Revels There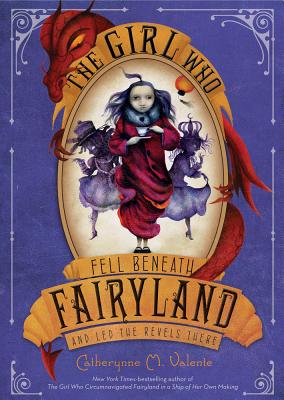 The Girl Who Fell Beneath Fairyland and Led the Revels There
Feiwel & Friends, Hardcover, 9780312649623, 258pp.
Publication Date: October 2, 2012
* Individual store prices may vary.
Buy Now
or
Shop Local
Enter your zip code below to purchase from an indie close to you.
Description
"One of the most extraordinary works of fantasy, for adults or children, published so far this century." Time magazine, on the Fairyland series
September has longed to return to Fairyland after her first adventure there. And when she finally does, she learns that its inhabitants have been losing their shadows and their magic to the world of Fairyland Below. This underworld has a new ruler: Halloween, the Hollow Queen, who is September's shadow. And Halloween does not want to give Fairyland's shadows back.
Fans of Valente's bestselling, first Fairyland book will revel in the lush setting, characters, and language of September's journey, all brought to life by fine artist Ana Juan. Readers will also welcome back good friends Ell, the Wyverary, and the boy Saturday. But in Fairyland Below, even the best of friends aren't always what they seem. . . .
About the Author
Catherynne M. Valente began September s adventures in installments on the Web; the project won legions of fans and also the CultureGeek Best Web Fiction of the Decade award. She lives with her husband on an island off the coast of Maine. She has written many novels for adults, but this is her children s book debut.

ANA JUAN is a world-renowned illustrator known in this country for her wonderful covers for the New Yorker magazine, as well as the children's books "The Night Eater", and "Frida", written by Jonah Winter. She lives in Spain.
Praise For The Girl Who Fell Beneath Fairyland and Led the Revels There…
A Time Magazine Best Book of the Year
"Valente is making new myths right now, right before our eyes. Don't miss the show." --Time Magazine
"[Valente] fills her Fairyland with magical wonder."--School Library Journal
"Remarkable. . . . Sophisticated, prodigious blending of familiar and original storytelling elements adds multilayered texture, while the rich prose oozes exotic, imaginative imagery."--Kirkus Reviews, starred review
"Valente draws motifs from mythology, fairy tales, and Victorian fantasy to build an astonishing, appealing world all her own. Juan's whimsical black-and-white spot illustrations ably capture outlandish Fairyland and its in
Praise for The Girl Who Circumnavigated Fairyland:  "One of the most extraordinary works of fantasy, for adults or children, published so far this century." --Lev Grossman, Time Magazine "A glorious balancing act between modernism and the Victorian Fairy Tale, done with heart and wisdom."—Neil Gaiman, Newbery Award–winning author of The Graveyard Book "September is a clever, fun, stronghearted addition to the ranks of bold, adventurous girls. Valente's subversive storytelling is sheer magic."—Tamora Pierce, author of The Immortals series "A mad, toothsome romp of a fairy tale—full of oddments, whimsy, and joy."—Holly Black, author of Zombies vs. Unicorns and The Spiderwick Chronicles "When I saw that this book reminds me simultaneously of E. Nesbit, James Thurber, and the late Eva Ibbotson, I don't mean to take anything awy from its astonishing originality. It's a charmer from the first page, managing the remarkable parlay of being at once ridiculously funny and surprisingly suspenseful.  Catherynne Valente is a find, at any age!"—Peter S. Beagle, author of The Last Unicorn "This is a kind of The Wonderful Wizard of Oz by way of Alice's Adventures in Wonderland—it's the sort of book one doesn't want to end."—Publishers Weekly, Starred Review "[Fairyland creates] a world as bizarre and enchanting as any Wonderland or Oz and a heroine as curious, resourceful and brave as any Alice or Dorothy. Complex, rich and memorable."—Kirkus Reviews, Starred Review "This book is quite simply a gold mine."—Booklist, Starred Review "Amusing, wrenching, and thought-provoking."—The Horn Book
habitants." --Horn Book