Artisan Pizza and Flatbread in Five Minutes a Day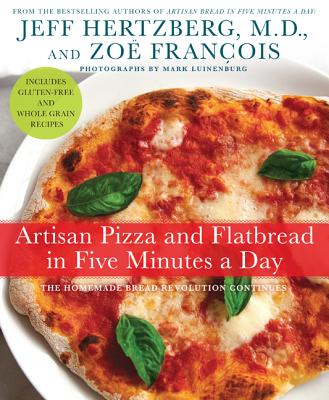 Artisan Pizza and Flatbread in Five Minutes a Day
Thomas Dunne Books, Hardcover, 9780312649944, 320pp.
Publication Date: October 25, 2011
* Individual store prices may vary.
Buy at Local Store
Enter your zip code below to purchase from an indie close to you.
or
Buy Here
Description
From the bestselling authors of the ground-breaking Artisan Bread in Five Minutes a Day comes a much-anticipated new cookbook featuring their revolutionary approach to yeast dough in over 100 easy pizza and flatbread recipes.
With nearly half a million copies of their books in print, Jeff Hertzberg and Zoe Francois have proven that people want to bake their own bread as long as they can do it quickly and easily. When fans hailed their pizza and flatbread recipes as the fastest in their books, Jeff and Zoe got busy creating all new recipes. With a batch of their stored dough in the fridge and a pre-heated oven or backyard grill, you can give your family what they crave
Home-made, mouth-watering pizzas, flatbreads, and sweet and savory tarts, prepared in minutes
In Artisan Pizza and Flatbread in Five Minutes a Day, Jeff and Zoe show readers how to use their ingenious technique to make lightning-fast pizzas, flatbreads, and sweet and savory tarts from stored, no-knead dough. In addition to the classic flatbread doughs and pizza crusts, there are alternatives with whole grain, spelt, and gluten-free ingredients, and the authors include soups, salads, and spreads that turn flatbreads or pizza into a complete meal. In just five minutes a day of active preparation time, you can create favorites like Classic Margherita, Pita pockets, Chicago Deep Dish, White Clam Pizza, and Blush Apple Tart. Artisan Pizza and Flatbread in Five Minutes a Day proves that making pizza has never been this fast or easy. So rise to the occasion and get baking
About the Author
The authors met in their children's music class in 2003 and wrote the best-selling "Artisan Bread in Five Minutes a Day," and "Healthy Bread in Five Minutes a Day." Jeff Hertzberg, M.D. grew up eating New York pizza and spent years trying to figure out how to make dough that was convenient enough to use for daily pizza, flatbreads, and loaves. But really, he just wanted to learn to throw pizza dough high into the air. He lives in Minneapolis with his wife and two daughters. Zoe Francois is a pastry chef trained at the Culinary Institute of America, but she is a pizzaiola at heart. While writing "Artisan Pizza and Flatbread in Five Minutes a Day" she traveled far and wide to eat every pizza and flatbread she could find. In addition to tossing pizzas she creates desserts on her pastry blog zoebakes.com. She lives in Minneapolis with her husband and two sons.The authors answer questions on pizza, flatbread, and all things bread at PizzaIn5.com."
Praise For Artisan Pizza and Flatbread in Five Minutes a Day…
Praise for Artisan Bread in Five Minutes a Day and Healthy Bread in Five Minutes a Day
"Soon the bread will be making itself… The crusty, full-flavored loaf that results may be the world's easiest yeast bread." --The New York Times
"If man cannot live by bread alone, it may be because Jeff Hertzberg and Zoë François didn't publish their book sooner… [They've] developed a method that makes any home into a mini artisan bake shop… Hertzberg and François' practical, common-sense method… is, quite simply, genius." --Robin Mathers Jenkins, Chicago Tribune
"… even people who've spent their lives avoiding the kitchen can whip up a loaf of bread in five minutes…" --The Today Show
"… a book that has eliminated that marathon of prep and angst… the aroma's wonderful, and there's a slightly sour tang… ooh, that's dynamite!  This is fabulous…" --Lynne Rossetto Kasper, on The Splendid Table radio show, 12/15/2007
"… whenever we need bread, I just dip into the container, pull out some dough, let it rest a bit and then bake a loaf, rolls, or pizza.  This method is amazingly simple—and creates authentic European-style fresh bread… The cost?  about 40 cents for a one-pound loaf!" --Woman's Day Magazine