Bonnie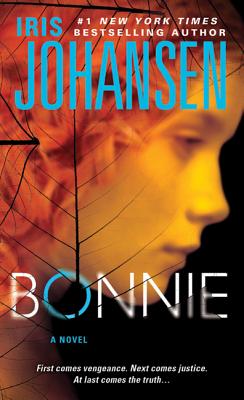 Bonnie
St. Martin's Press, Mass Market Paperbound, 9780312651282, 376pp.
Publication Date: January 24, 2012
* Individual store prices may vary.
Buy at Local Store
Enter your zip code below to purchase from an indie close to you.
or
Buy Here
Description
Bonnie
Iris Johansen
"The truth has eluded her for years Now, is she ready to face it? The #1 New York Times bestselling author Iris Johansen has written an explosive conclusion to the trilogy that will finally lay to rest the questions that have haunted her fans for a decade"
When Eve Duncan gave birth to her daughter, she experienced a love she never knew existed. Nothing would stand in the way of giving Bonnie a wonderful life until the unthinkable happened and the seven-year-old vanished into thin air. Eve found herself in the throes of a nightmare from which there was no escape. But a new Eve emerged: a woman who would use her remarkable talent as a forensic sculptor to help others find closure in the face of tragedy. Now, with the help of her beloved Joe Quinn and CIA Agent Catherine Ling, Eve has come closer than ever to the truth. But the deeper she digs, the more she realizes that Bonnie's father is a key player in solving this monstrous puzzle. And that Bonnie's disappearance was not as random as everyone had always believed
About the Author
Iris Johansen is The New York Times bestselling author of The Perfect Witness, Live to See Tomorrow, Silencing Eve, Hunting Eve, Taking Eve, Sleep No More, What Doesn t Kill You, Bonnie, Quinn, Eve, Chasing the Night, Eight Days to Live, Blood Game, Deadlock, Dark Summer, Pandora s Daughter, Quicksand, Killer Dreams, On the Run, Countdown, Firestorm, Fatal Tide, Dead Aim, No One to Trust, and more. And with her son Roy Johansen, she has coauthored Sight Unseen, Close Your Eyes, Shadow Zone, Storm Cycle, and Silent Thunder.
Praise For Bonnie…
Praise for Eve
"The suspense and action will entertain all, even those new to the series." —Library Journal (starred review)
"Johansen launches a trilogy that takes the reader on an action-packed journey filled with killers and heroes, leaving readers on tenterhooks."—Booklist  
"Read Eve and be hooked."—RT Book Reviews
"Gripping…Johansen deftly baits the hook for the next volume."—Publishers Weekly
"Johansen's stories keep getting better with each installment.  You will find yourself drawn to Eve and caring about what happens to her."—Night Owl Reviews (A Top Pick)
"A superb kick off ..an excellent presentation to this fantastic series that is a one sitting read."—Reader to Reader Reviews
Praise for the novels of Iris Johansen
"Action-packed!"—Publishers Weekly on Eight Days to Live
"With an imaginative plot and gut-wrenching action…this novel packs a wallop and is impossible to put down."—Tucson Citizen on Eight Days to Live
"You'll want to keep the lights on while reading!"—Romantic Times BOOKreviews on Blood Game
 "Johansen is becoming a master of the macabre and paranormal thriller, and her latest riveting Eve Duncan tale has it all, from ghosts and secret cults to supernatural avengers." —Booklist on Blood Game
"Readers won't soon forget either the enigmatic hero or the monstrous villain. This one's chilling to the bone!"—Romantic Times BOOKreviews on Deadlock
"Johansen's knack for delivering robust action and commanding characters kicks into high gear."—Booklist on Dark Summer
"Action-packed, adrenaline-fueled…will keep [you] eagerly turning the pages."—Publishers Weekly on Quicksand
"Keeping the tension high and the pace relentless, prolific and compelling Johansen adds depth to her popular characters as she continues this suspenseful series."—Booklist on Quicksand
"Bestselling author Johansen captivates readers with her latest suspense thriller…the suspense escalates toward an explosive conclusion."—Library Journal on Pandora's Daughter
"An exhilarating thriller…suspense that will keep readers on the edge of their seats."—Booklist on Pandora's Daughter
"A fast-paced, non-stop, clever plot in which Johansen mixes political intrigue, murder, and suspense."—USA Today on The Face of Deception;
"[A] thrill ride…Action, romance, castles, bomb plots and booby-trapped hideaway in snowbound Idaho—what more could Johansen fans want?"—Publishers Weekly on Countdown
"Intriguing suspense…her new tale will please both fans and new converts."—Booklist on Blind Alley
"Thoroughly gripping and with a number of shocking plot twists…packed all the right elements into this latest work: intriguing characters; creepy, crazy villain; a variety of exotic locations."—New York Post on The Search