Fly by Wire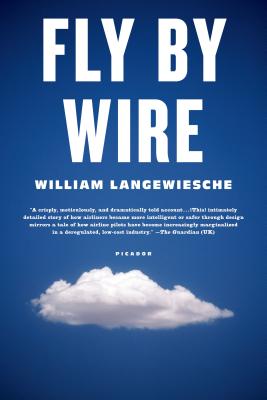 Fly by Wire
Picador USA, Paperback, 9780312655389, 193pp.
Publication Date: October 26, 2010
* Individual store prices may vary.
Buy Now
or
Shop Local
Enter your zip code below to purchase from an indie close to you.
Description
In  Fly by Wire, one of America's greatest journalists takes us on a "fascinating" (The New York Times) and sometimes humorous journey into the rapidly changing aviation industry. Langewiesche concisely and artfully renders forty years of history in the field by examining the financial problems, the unions, and ultimately the recent advances in technology. And he finds that aviation safety is field in which machine has now surpassed man, but man still manages to find ways -- hubris, ineptitude -- to cause accidents. Advances such as fly by wire suggest that in some cases it may prove best to cede authority to the machines, even if it means questioning our assumptions about human beings and heroism in the process.
About the Author
William Langewiesche is the author of four previous books, including the National Book Critic s Circle Award finalist "American Ground". He is currently the international correspondent for "Vanity Fair. "
Praise For Fly by Wire…
Praise for Fly by Wire
"If you think you know the story of Chesley Sullenberger's miraculous ditching of US Airways flight 1549 from the major media coverage, think again. In this short, tightly written yet expansive book, Vanity Fair correspondent Langewiesche (The Atomic Bazaar) weaves a page-turning narrative of the ill-fated, three-minute flight, crippled by a bird strike, with several finely honed elements of backstory (the day-to-day lives of airline personnel including Capt. "Sully" Sullenberger and his crew, an errant flock of geese, and a controversial French-built airplane) into a masterpiece of modern journalism. While most media coverage of the event has focused on Sullenberger's heroic actions, dubbing it the "Miracle on the Hudson," Langewiesche eschews such hyperbole and explores every detail of the day's fateful events. Sullenberger and his copilot, Jeffrey Skiles, do come off as heroic, but more for what they did not do—they did not panic, and they did not interfere with the Airbus A320's remarkable computer system controlling the airplane's glide into the Hudson. Just before impact, however, Sullenberger raised the airplanes nose gently, an action that bought time for all the passengers to escape the frigid waters. The sections of the book dealing with the flight itself are soberly rendered, yet gripping. But it is the backstory—including the economic, political, and engineering stories behind the airplane itself—that make this book a true achievement. In this expertly researched book, rendered in spare, pitch-perfect prose, Langewiesche has turned a feel-good tabloid story into an enduring work of literature." —Publishers Weekly
"The flight lasted for not much more time than it will take you to read this review. A minute and a half after takeoff, the US Airways jet engines ingested several geese and failed. A little over three minutes later, Capt. Chesley 'Sully' Sullenberger gracefully planted the Airbus 320 in the Hudson River, and everyone was rescued. "A short tale to hang an entire book on, but William Langewiesche is the best man for the job. "Fly by Wire: The Geese, the Glide, the Miracle on the Hudson" isn't a hero's story, with inspirational details from Sullenberger's life. Instead, Langewiesche gives us an insightful analysis of the changing world of commercial aviation. "As an author,
Vanity Fair
magazine editor and pilot, Langewiesche knows this territory well, and he approaches it with a sense of humor. There's a cleverly researched chapter about goose behavior near airports, including an explanation of the avian term "cluster-flocking." Langewiesche relies on cockpit transcripts, interviews and aircraft systems data to flesh out the minutest details surrounding the brief flight. You'll learn what Sullenberger ate for breakfast that morning and what movie his co-pilot watched the night before." —Phaedre Hise,
San Francisco Chronicle
Praise for The Atomic Bazaar
"A gripping, frightening and essential story." —John Freeman, The Denver Post
"One need read only the first three pages of The Atomic Bazaar to be reminded of William Langewiesche's formidable talent as a journalist whose cool, precise and economical reporting is harnessed to an invigorating moral and intellectual perspective on the world he describes . . . An important book." —Jonathan Raban, The New York Times Book Review
 Praise for The Outlaw Sea
"Astonishing . . . As [Langewiesche] demonstrates time and time again in this brave, often electrifying book, [the sea] is a world that is both new and very old, and we ignore it at our peril." —Nathaniel Philbrick, The New York Times Book Review
"William Langewiesche's enthralling study of the epidemic disorder of our oceans is hard to put down. His prose flows seamlessly and elegantly, effortlessly integrating investigative reporting, political analysis, travel writing and even film criticism." —Jesse Berrett, San Francisco Chronicle Book Review
Praise for American Ground
"Slim but powerful . . . One of the gifts of American Ground [is] truth, unclouded by sentiment. This book's other gift is its capacity to surprise: it is a work of original reporting, and its pages are filled with astonishing observations." —Jeffrey Goldberg, The New York Times Book Review
"Extraordinary . . . An amazing piece of journalism, full of colorful characters and astonishing scenes." —Peter Carlson, The Washington Post