City of Gold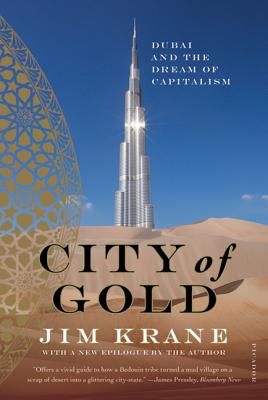 City of Gold
Dubai and the Dream of Capitalism
Picador USA, Paperback, 9780312655433, 358pp.
Publication Date: November 23, 2010
* Individual store prices may vary.
Buy at Local Store
Enter your zip code below to purchase from an indie close to you.
or
Buy Here
Description
Just a dusty fishing village in the 1950s, Dubai has grown faster than any other city in the world to become a glittering mecca for investors and pleasure-seekers, the repository of vast foreign investments, and a bellwether for the entire economy. In this compelling new book, Jim Krane charts the history of Dubai from its earliest days, considers the influence of the family who has ruled it since the nineteenth century, and looks at the effect of the global economic downturn on a place that many tout as a blueprint for a more stable Middle East.
About the Author
Jim Krane, an award-winning journalist, was the AP's Persian Gulf Correspondent, responsible for coverage in all six Gulf Arab countries. He has also written about Dubai for "The Economist" and the "Financial Times". Previously, he was an AP Baghdad Correspondent and New York-based business writer. He lives in Cambridge, England, with his wife and son.
Praise For City of Gold…
"Far and away the best book on modern Dubai, packed with fascinating insights and offering a sympathetic but balanced account of the city's huge successes—and occasional failures. Krane systematically tackles pretty much every important aspect of Dubai's past and present, with absorbing accounts of the city's history and the personalities and achievements of its charismatic rulers through to vexed contemporary issues such as human-rights abuses and environmental concerns, condensing a vast amount of detail into a compellingly readable roller coaster of a narrative." —The Rough Guide to Dubai
"Offers a vivid guide to how a Bedouin tribe turned a mud village on a scrap of desert into a glittering city state." —
Bloomberg News
 "This landmark work is recommended to those interested in the history, politics, and economics of the Middle East; an excellent choice for anyone who wishes to learn more about Dubai." —
Library Journal
 "A fascinating study of a small nation that has taken the ideas of modernization and capitalism to their outer limits." —
Publishers Weekly
(starred review)
"Examines this small emirate with admirable evenhandedness and good humor . . . Krane also writes movingly of the conditions of the Indian, Pakistani, and Bangladeshi workers who have built Dubai." —
Financial Times
(UK)
"The author hits his stride when he assesses Dubai's current ruler, Sheikh Mohammed bin Rashid Al Maktoum. He proceeds to examine this small emirate with admirable even-handedness and good humor. But Krane also writes movingly of the conditions of the Indian, Pakistani, and Bangladeshi workers who have built Dubai." —
The Atlantic
"The history of a little Emirate's epic transformation, from an impoverished pearling enclave to the shining city on the hill, is revealed in full detail. Jim Krane is a great reporter, whose journalistic credentials are brought to bear in this unique work that is infused with facts, ample history, emotion, and stunning narratives.  He leads his audience into the nooks and crannies of the 'unknown'  Dubai, to reveal the humanity and intrigue that pulsates beneath the surface. He shows how powerful persons with a global reach collaborated to build an economic gem out of the desert. This is a fast-moving Arabian tale, but very much a modern one; not only laden with facts, it is a guidebook and cautionary tale for other developing nations in their quest to rapidly achieve the Western dream."—Justin Dargin, Harvard University, author of Desert Dreams and The Dolphin Project: The Development of a Gulf Gas Initiative
"Dubai is fortunate to have as skilled and passionate a chronicler as Jim Krane. The city leaps off these pages with panache, brassiness, splendor, and suffering. There is no better book about Dubai, and there may never be." —Jon Alterman, director of the Middle East program at CSIS, author of The Vital Triangle: China, the United States, and the Middle East
 "How did one of the planet's last unexplored wastelands, for millennia ignored by history, become in just a few short decades the playground of the unimaginably rich? In City of Gold, Jim Krane traces the fascinating and long overlooked history of Dubai, from pirate battles and eccentric British explorers to the glittering spires of a metropolis that emerged from nowhere, in prose as spare and enchanting as a desert fairy tale." —James Hider, Middle East correspondent for The Times (London), author of The Spiders of Allah: Travels of an Unbeliever on the Frontline of Holy War
"A marvelous book. Beautifully written! Jim Krane has written a fascinating account of a Middle East we rarely get to hear about.  Jim Krane's book on Dubai's rise and fall—in this era of global financial crisis—is a cautionary tale for us all." —Lourdes Garcia-Navarro, NPR's Middle East correspondent