The Tudor Secret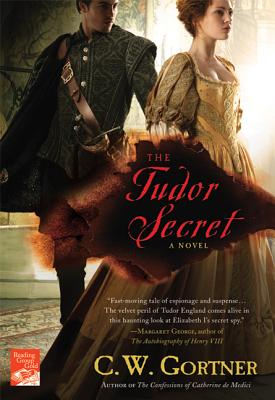 The Tudor Secret
Griffin, Paperback, 9780312658502, 327pp.
Publication Date: February 1, 2011
* Individual store prices may vary.
Buy at Local Store
Enter your zip code below to purchase from an indie close to you.
or
Buy Here
Description
The era of the Tudors was one of danger, intrigue, conspiracy, and, above all, spies.
Summer 1553: A time of danger and deceit. Brendan Prescott, an orphan, is reared in the household of the powerful Dudley family. Brought to court, Prescott finds himself sent on an illicit mission to the king's brilliant but enigmatic sister, Princess Elizabeth. But Brendan is soon compelled to work as a double agent by Elizabeth's protector, William Cecil, who promises in exchange to help him unravel the secret of his own mysterious past.
A dark plot swirls around Elizabeth's quest to unravel the truth about the ominous disappearance of her seriously ill brother, King Edward VI. With only a bold stable boy and an audacious lady-in-waiting at his side, Brendan plunges into a ruthless gambit of half-truths, lies, and murder. Filled with the intrigue and pageantry of Tudor England, C. W. Gortner's "The Tudor Secret "is the first book in The Elizabeth I Spymaster Chronicles.
About the Author
A former fashion executive, C. W. Gortner is a lifelong admirer of Coco Chanel. His passion for writing led him to give up fashion, and his many historical novels have been bestsellers, published in more than twenty countries. He lives in San Francisco.
Praise For The Tudor Secret…
Praise for C. W. Gortner
"Riveting . . . In Gortner's capable hands, Prescott is a believable and enjoyable hero, a man of strong loyalties but naïve enough to be exploited. And while the Dudleys are mostly broadly drawn villains, Robert has depth, and though readers familiar with the Tudor era will know the key players, they may be surprised by their depiction here. Gortner handles action with aplomb, adding a riveting, fast-paced thriller to the crowded genre of Tudor fiction."—
Publishers Weekly
"Even Tudor fans who know all the key players and historical backdrop will be captivated by Gortner's storytelling and his engaging hero. He juxtaposes his naïve and loyal hero with the cruel Robert Dudley, enhancing the plot and grabbing reader interest as much as the quick pace and lush historical references. The novel is both entertaining and thoughtful."—RT Book Review
"An exciting, vividly rendered story of intrigue and espionage."—Booklist
"Dazzling cast of characters . . . at its heart, the brilliant and enigmatic Elizabeth. Never have spy and counterspy been more challenged, villains more duplicitous, and life for those in power—or hoping to be—more dangerous. . . . Fast-moving tale of espionage and suspense . . . The velvet peril of Tudor England comes alive in this haunting look at Elizabeth I's secret spy."—Margaret George, author of The Autobiography of Henry VIII
"A brilliantly executed plot and three-dimensional characters . . . this is historical fiction, and very well done at that; very highly recommended."—Historical Novels Review, editors' choice