Crazy Rich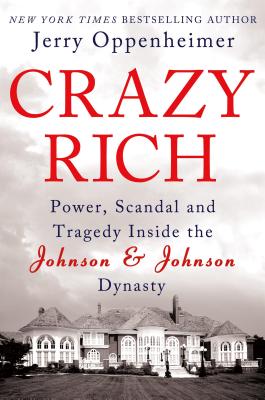 Crazy Rich
Power, Scandal, and Tragedy Inside the Johnson & Johnson Dynasty
St. Martin's Press, Hardcover, 9780312662110, 478pp.
Publication Date: August 13, 2013
* Individual store prices may vary.
Shop Local
Enter your zip code below to find indies closest to you.
Description
From the founders of the international health-care behemoth Johnson & Johnson in the late 1800s to the contemporary Johnsons of today, such as billionaire New York Jets owner Robert Wood "Woody" Johnson IV, all is revealed in this scrupulously researched, unauthorized biography by "New York Times" bestselling author Jerry Oppenheimer. Often compared to the Kennedy clan because of the tragedies and scandals that had befallen both wealthy and powerful families, "Crazy Rich," based on scores of exclusive, candid, on-the-record interviews, reveals how the dynasty's vast fortune was both intoxicating and toxic through the generations of a family that gave the world Band-Aids and Baby Oil. At the same time, they've been termed perhaps the most dysfunctional family in the fortune 500. Oppenheimer is the author of biographies of the Kennedys, the Clintons, the Hiltons and Martha Stewart, among other American icons.
About the Author
JERRY OPPENHEIMER is the "New York Times "bestselling author of "Crazy Rich: Power, Scandal, and Tragedy Inside the Johnson & Johnson Dynasty", as well as unauthorized biographies of Hillary and Bill Clinton, Anna Wintour, Rock Hudson, Martha Stewart, Barbara Walters, Ethel Kennedy, Jerry Seinfeld, and the Hilton family. He has also worked in several different capacities as a journalist, including as an investigative reporter and a producer of television news programs and documentaries.
Praise For Crazy Rich…
"It would seem that having enough money to do every stupid thing that strikes your fancy is no blessing. . . . [Crazy Rich] is gossipy and fast-moving, with surprising emotional resonance." —Newark Star Ledger
"A breathless tell-all . . . Oppenheimer trains his gaze on the Johnsons, the cursed Kennedies of pharmaceuticals—a family who, with every generation, find themselves at the center of celebrity and political scandal. . . . The book is an impressive example of journalistic synthesis, bringing together bits of tabloid journalism not usually connected (playing celebrity connect-the-dots is half the book's fun) around a strong narrative core [about] a family whose money can buy influence and power, but comes with costly personal consequences." —Publishers Weekly

"A prolific biographer of the rich and infamous, Oppenheimer digs into five generations of the Johnson family . . . detailing their mind-boggling personal wealth. . . . A fast-paced chronicle of births, courtings, marriages, divorces, estrangements, bitter lawsuits, drug and alcohol abuses, crimes, memorable deaths and other unpleasantness. . . . A character-driven saga suggesting that the spoiled rich are their own worst enemies." —Kirkus Reviews
"A wicked debunking of Stewart's carefully crafted persona." —People on Just Desserts

"After reading House of Hilton, you'll wonder why anyone wouldn't beg to be dropped from the speed dial of a family that makes the Osbournes look like the Brady Bunch."
—The New York Times