Our Boys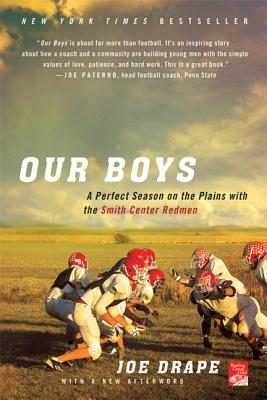 Our Boys
A Perfect Season on the Plains with the Smith Center Redmen
Griffin, Paperback, 9780312662639, 281pp.
Publication Date: August 3, 2010
* Individual store prices may vary.
Buy Now
or
Shop Local
Enter your zip code below to purchase from an indie close to you.
Description
The football team in Smith Center, Kansas, holders of the nation's longest high-school winning streak, embrace a philosophy of life taught by their legendary coach, Roger Barta: "Respect each other, then learn to love each other and together we are champions."
But as the Redmen embarked on a quest for a fifth consecutive state title, they faced a potentially destabilizing transition: the greatest senior class in school history had graduated, and Coach Barta was contemplating retirement. In Smith Center population: 1,931 this changing of the guard was seismic. Hours removed from the nearest city, the town revolves around "our boys" in a way that goes to the heart of what America's heartland is today.
New York Times sportswriter Joe Drape moved his family to Smith Center to discover what makes the team and the town an inspiration for miles around. And in a new afterword, Drape returns to Smith Center to chronicle even greater challenges as the streak enters its sixth year.
About the Author
Joe Drape is an award-winning sportswriter for the New York Times. A native of Kansas City and graduate of Southern Methodist University, Joe came to the New York Times in 1998 after reporting for numerous local papers.