No Apology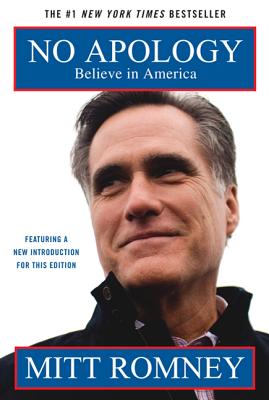 No Apology
Believe in America: The Case for American Greatness
Griffin, Paperback, 9780312671730, 339pp.
Publication Date: February 1, 2011
* Individual store prices may vary.
Buy at Local Store
Enter your zip code below to purchase from an indie close to you.
or
Not Currently Available for Direct Purchase
Description
In "No Apology, "Mitt Romney asserts that American strength is essential not just for our own well-being, but for the world's. Nations such as China and a resurgent Russia threaten to overtake us on many fronts, and violent Islamism continues its dangerous rise. In the face of such challenges, America need not apologize for its liberties, but must use them wisely.
We need renewal: fresh ideas to cut through complicated problems and restore our strength. Creative and bold, Romney proposes solutions to restore economic vitality, create good jobs, reduce out-of-control spending on entitlements and health care, dramatically improve education, and rebuild a military battered by years of war. Most important, he calls for a new commitment to citizenship, a common cause we all share, rather than a laundry list of individual demands. Many of his solutions oppose President Obama's policies, many also run counter to Republican thinking, but all have one strategic aim: to strengthen America and preserve our global leadership.
Personal and dynamically argued, "No Apology" is a call to action by a man who cares deeply about America's history, its promise, and its future.
About the Author
Mitt Romney, author of the book "No Apology: Believe in America", is an American businessman and former governor of Massachusetts. Romney was a candidate for the Republican nomination in the 2008 United States presidential election and was the 2012 Republican nominee for President. He first gained national recognition in 2002 as President and CEO of the Salt Lake Organizing Committee for the Olympic Games. He received his B.A., with Highest Honors, from Brigham Young University in 1971. In 1975, he was awarded an MBA from Harvard Business School, where he was named a Baker Scholar, and a J.D., cum laude, from Harvard Law School.