Girl, Stolen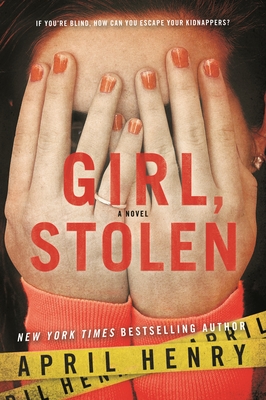 Girl, Stolen
Square Fish, Paperback, 9780312674755, 232pp.
Publication Date: March 13, 2012
* Individual store prices may vary.
Shop Local
Enter your zip code below to find indies closest to you.
Description
Sixteen-year-old Cheyenne Wilder is sleeping in the back of a car while her mom fills her prescription for antibiotics. Before Cheyenne realizes what's happening, their car is being stolen. Griffin hadn't meant to kidnap Cheyenne, but once his dad finds out that Cheyenne's father is the president of a powerful corporation, everything changes--now there's a reason to keep her. How will Cheyenne survive this nightmare? Because she's not only sick with pneumonia--she's also blind.
About the Author
April Henry is the New York Times bestselling author of mysteries and thrillers. Her books have been shortlisted for the Agatha Award, the Anthony Award, and the Oregon Book Award. April lives in Portland, Oregon, with her husband and daughter.
Praise For Girl, Stolen…
"Be ready to be startled and inspired as the story reaches its climax. Readers will race to the end." --The Strand Magazine
"The pace is impeccable, becoming rapidly more frantic as Cheyenne realizes her chances for success are dwindling. In addition, the premise itself is powerfully realistic and compelling, with one small incident (Griffin's jumping into a car that had the keys in the ignition) snowballing into a nightmare series of events that will change everyone." --BCCB
"Henry (Torched) spins a captivating tale that shifts between Cheyenne's and Griffin's thoughts. Both are well-built, complex characters, trapped in their own ways by life's circumstances, which--paired with a relentlessly fast pace--ensures a tense read."--Publishers Weekly
"Readers will be hard-pressed to put this one down before its heart-pounding conclusion."--School Library Journal
"Spine-tingling…Reminiscent of Gail Giles' thrillers and tension-filled to the last sentence, Girl, Stolen will resonate with readers long after the cover is closed. With a thoughtful and eye-opening look at disabilities, it highlights Cheyenne and Griffin's resourcefulness and resiliency as they save themselves—and possibly each other." --BookPage
"Thoroughly exciting." --
Booklist
"Grabs your attention with the first page you read...Each page holds new questions that are answered in the most unexpected ways." --VOYA, 5Q review
"Constantly interesting and suspenseful." --Kirkus Reviews
"Quick-paced tension makes this a great choice for young adults seeking a riveting mystery." --Eugene Register Guard
"A page-turner" --The Oregonian
"I finished Girl, Stolen in a day...It is a very suspenseful book, obviously. What held my interest beyond that was the way the author wrote the victim's character--Cheyenne's blindness was tragic but rather than focus on that, the reader is going to concentrate on her persistence and ability to adapt. The most controversial part of the story becomes Cheyenne's relationship with Griffin--an unwilling captor to begin with, he finds in Cheyenne everything he lacks in the people around him: someone who is smart and is sympathetic to his situation despite his responsibility for her kidnapping...The biggest mystery is left unanswered, pushing the reader to come to his/her own conclusions – I liked the challenge." --Rebecca Waesch, Joseph-Beth, Cincinnati, OH