The Good Son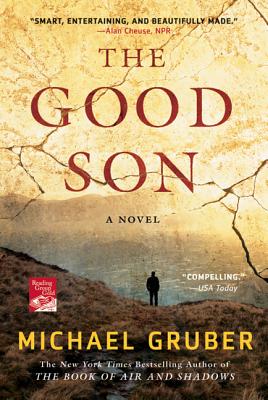 The Good Son
St. Martins Press-3pl, Paperback, 9780312674946, 416pp.
Publication Date: February 15, 2011
* Individual store prices may vary.
Buy Now
or
Shop Local
Enter your zip code below to purchase from an indie close to you.
Description
New York Times bestselling author Michael Gruber, a member of "the elite ranks of those who can both chill the blood and challenge the mind" (The Denver Post), delivers a taut, multilayered, riveting novel of suspense
Somewhere in Pakistan, Sonia Laghari and eight fellow members of a symposium on peace are being held captive by armed terrorists. Sonia, a deeply religious woman as well as a Jungian psychologist, has become the de facto leader of the kidnapped group. While her son Theo, an ex-Delta soldier, uses his military connections to find and free the victims, Sonia tries to keep them all alive by working her way into the kidnappers' psyches and interpreting their dreams. With her knowledge of their language, her familiarity with their religion, and her Jungian training, Sonia confounds her captors with her insights and beliefs. Meanwhile, when the kidnappers decide to kill their captives, one by one, in retaliation for perceived crimes against their country, Theo races against the clock to try and save their lives.
About the Author
"New York Times" bestselling author Michael Gruber is the author of five acclaimed novels. He lives in Seattle.
Praise For The Good Son…
"This is a thriller, but also a novel of the mind—I learned more about the radical mindset in these 320 pages than in all the political punditry I've read or watched in the last five years. Highly recommended."—Stephen King
"… The brilliant character development and the labyrinthine plot line, not to mention the absorbing history of modern jihadism and the U.S. war on terrorism, make this a provocative thriller that readers won't soon forget."—PW (Starred)
"Is there anything Gruber can't write about? In this richly layered tale,… there are twists and tension aplenty—ideas, too. If only governments were half as interested in the psychology of violence, maybe war itself might become a work of fiction."—Booklist (Starred)
"Gruber… weaves threads together masterfully while successfully exploring themes of family, duty, loyalty, cultural identity and more, without ever slowing the momentum. Smart, tense and vastly entertaining."—Kirkus
"The Good Son, by Michael Gruber, is one of those few and far between complex, intelligent, and insightful thrillers. The main character, Theo Bailey, is a Special Operations soldier who decides to take a more-or-less unauthorized leave from the Army to locate his mother, Jungian psychotherapist Sonia Bailey Laghari, who's disappeared near Kashmir. Sonia, who'd become a practicing Muslim when she married a Pakistani, was in South Asia to convene a symposium on "Conflict Resolution on the Subcontinent: A Therapeutic Approach" with a group of fellow pacifists. Ironically—given the title of the symposium—she and her fellow participants, who include an American billionaire, a Jesuit priest, and a Quaker couple, are kidnapped by terrorists, who may or may not have nuclear weapons at their disposal. Unless Theo can figure out what's going on and how to foil the terrorists' plans, his mother is doomed. At worst, the terrorists will use the nuclear devices; at best, Sonia and the rest will die by beheading. Because you're immediately sucked into the intricate and page-turning plot, this is a good novel for a long plane flight; but readers who are looking for a thriller with a strong philosophical subtext—the sort of novel that makes you think about families, loyalty, religion, and politics—will find just what they're looking for in Gruber's finest novel to date." —Nancy Pearl, Booklust