For Crew and Country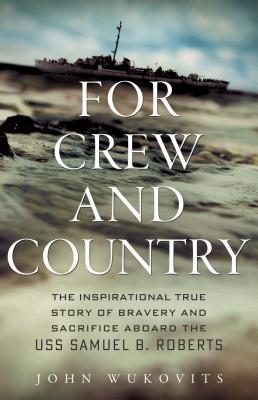 For Crew and Country
The Inspirational True Story of Bravery and Sacrifice Aboard the USS Samuel B. Roberts
St. Martin's Press, Hardcover, 9780312681890, 349pp.
Publication Date: January 29, 2013
* Individual store prices may vary.
Buy at Local Store
Enter your zip code below to purchase from an indie close to you.
or
Not Currently Available for Direct Purchase
Description
In "For Crew and Country," John Wukovits tells of the most dramatic naval battle of the Pacific War and the incredible sacrifice of the "USS Samuel B. Roberts."
On October 25, 1944, the "Samuel B. Roberts," along with the other twelve vessels comprising its unit, stood between Japan's largest battleship force ever sent to sea and MacArthur's transports inside Leyte Gulf. Faced with the surprise appearance of more than twenty Japanese battleships, cruisers, and destroyers, including the "Yamato," at 70,000 tons the most potent battlewagon in the world, the 1,200-ton "Samuel B. Roberts" turned immediately into action with six other ships. Captain Copeland marked the occasion with one of the most poignant addresses ever given to men on the edge of battle: "Men," he said over the intercom, "we are about to go into a fight against overwhelming odds from which survival cannot be expected."
The ship churned straight at the enemy in a near-suicidal attempt to deflect the more potent foe, allow the small aircraft carriers to escape, and buy time for MacArthur's forces. Of 563 destroyers constructed during WWII, the "Samuel B. Roberts "was the only one sunk, going down with guns blazing in a duel reminiscent of the Spartans at Thermopylae or Davy Crockett's Alamo defenders. The men who survived faced a horrifying three-day nightmare in the sea, where they battled a lack of food and water, scorching sun and numbing nighttime cold, and nature's most feared adversary sharks.
The battle would go down as history's greatest sea clash, the Battle of Samar the dramatic climax of the Battle of Leyte Gulf.
About the Author
JOHN K. WUKOVITS is a military expert specializing in the Pacific Theater of World War II. He is the author of many books, including "Eisenhower: A Biography"; "One Square Mile of Hell: The Battle for Tarawa"; and "American Commando: Evans Carlson, His WWII Marine Raiders, and America's First Special Forces Mission." He has also written numerous articles for such publications as "WWII History," "Naval History," and "World War II." He lives in Trenton, Michigan.
Praise For For Crew and Country…
"Engaging and lively . . . A valuable addition to our understanding of the events that took place almost 70 years ago, and an inspirational story of devotion to duty and country." 
—
Proceedings
"This story of the brave and resourceful officers and crew of the gallant
Samuel B. Roberts
is one that should be read by every American. A thrilling story of self-sacrifice, of David versus many Goliaths, of a little war vessel with a paper-thin hull saluting, stepping up, and making a charge to death and glory. After I finished reading, I wanted to stand up and cheer. I still do." —Homer Hickam, #1
New York Times
bestselling author of
Torpedo Junction
,
Rocket Boys/October Sky
, and
The Keeper's Son
"In this richly detailed book, John Wukovits provides unusual insight into the crew, the team—the family—of the USS
Samuel B. Roberts
. The human detail is drawn from wartime letters, secondary sources, and survivor interviews, resulting in a rare combination of research, exposition, and insight. From the tentative process of shaking down to deployment to the Pacific, to the soaring, searing reality of combat at Leyte Gulf, readers will come to know many of the 'Sammy B's' crew, celebrate their survival, and mourn their loss."—Barrett Tillman, author of
Enterprise: America's Fightingest Ship and the Men Who Helped Win World War II.
"John Wukovits writes with verve and command in this rousing tale of an epic battle. You'll marvel at the bravery of the men on a very small ship up against the main battle fleet of the Japanese Imperial Navy." —Evan Thomas,
New York Times
bestselling author of
Sea of Thunder
and
Ike's Bluff
"In this gripping page-turner, Wukovits chronicles one of the greatest stories in naval history, when tiny, outnumbered, outgunned destroyers and destroyer escorts went 'toe-to-toe' with Japanese battleships and cruisers, exhibiting courage that has rarely been equaled and never surpassed. One of those ships paid the ultimate price, but played a key role in turning the tide in this seemingly one-sided engagement. This is that ship's incredible story." —Thomas J. Cutler, author of
The Battle of Leyte Gulf
"Despite the U.S. Navy's huge contribution to allied victory in World War II, stories of individual ships and their crews have formed an oddly small niche in the American literature on the struggle. But if the niche is small, its quality glimmers with the works of authors like Edward Stafford and James Hornfischer. Now John Wukovits' narrative of the
Samuel B. Roberts
joins this illustrious company. From the building yard to the agonies of survivors pitted against an unforgiving sea, this outstanding account is a loving tribute to an immortal vessel and her heroic crew." —Richard B. Frank, author of
Guadalcanal: The Definitive Account of the Landmark Battle
and
Downfall: The End of the Imperial Japanese Empire